Foundations in Emergency Medical Response
Designed for: Students in Grades 11 or 12
Delivery: Blended (online and on-campus)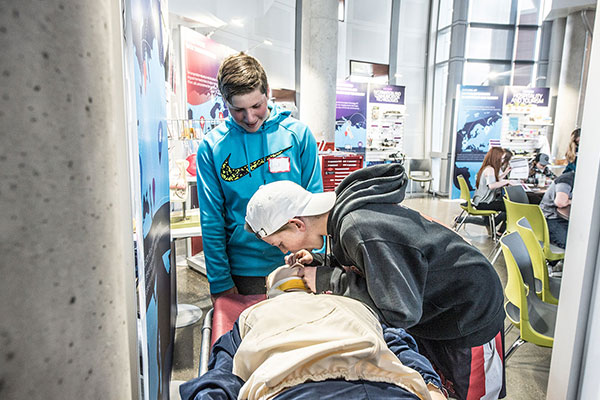 Overview
Learn foundational skills and knowledge in emergency medical response, including first aid and CPR, in this blended, online and classroom-based program.
This program primarily covers the CPR and first aid (basic and advanced) aspects of emergency medical response training, including includes emergency medical services, ambulance operations, patient assessment, basic life support, trauma and medical emergencies, geriatrics, environmental, psychological, and special situations.
Is this the right fit for me?
This program is for students in Grade 11 or 12 who:
are able to work under pressure and in stressful conditions
have strong communication and interpersonal skills
are considering a career relating to emergency medical response and/or related healthcare fields.
Program length
Foundations in Emergency Medical Response is offered over one semester and requires a commitment of 14 face-to-face sessions on SAIT campus throughout the program.
How to apply
Students interested in youth foundations studies should contact their career practitioner, high school counselor or off-campus coordinator.
See details