After nearly 10 years of planning and construction, the Trades and Technology Complex (TTC) officially opened on Sept. 5, 2012. A decade later, its transformational impact on students and the wider community is only growing. Here are ten crucial ways the TTC shapes today's SAIT.
---
1 . PRIDE OF PLACE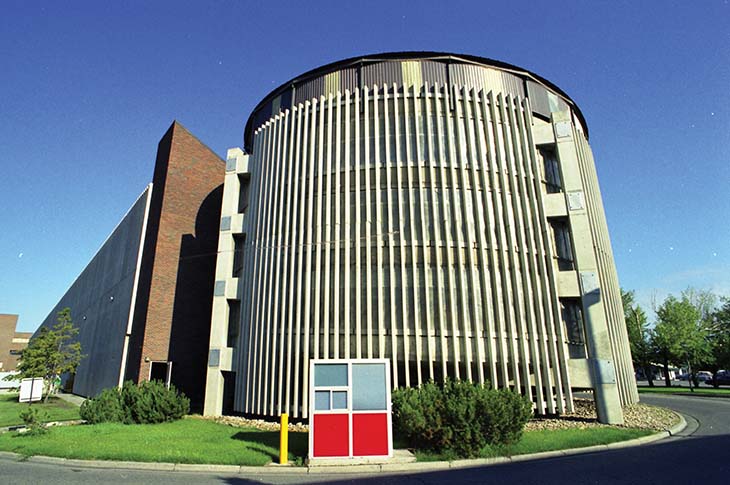 Tearing down the Murdoch Parkade1 along 16th Avenue NW wasn't just the first step in constructing the TTC — it was a massive leap forward in changing public perceptions of SAIT. What happened next — building the sleek and spacious Aldred Centre2 on SAIT's front doorstep — was a bold statement that won international recognition3 and served as the cornerstone for this three-building complex4 dedicated to skill-based trades and technical training.5
1 Old, bleak, 70s-era, cement.
2 It's an entire city block and a half wide.
3 Named in KPMG Magazine's Infrastructure 100: World Cities Edition for its scale, complexity, innovation and impact on society.
4 The Aldred Centre, the Johnson-Cobbe Energy Centre, and the Cenovus Energy Centre.
5 Focused mainly on sustainable energy, construction and manufacturing.
2. GLOBAL STUDENT COMPETITIONS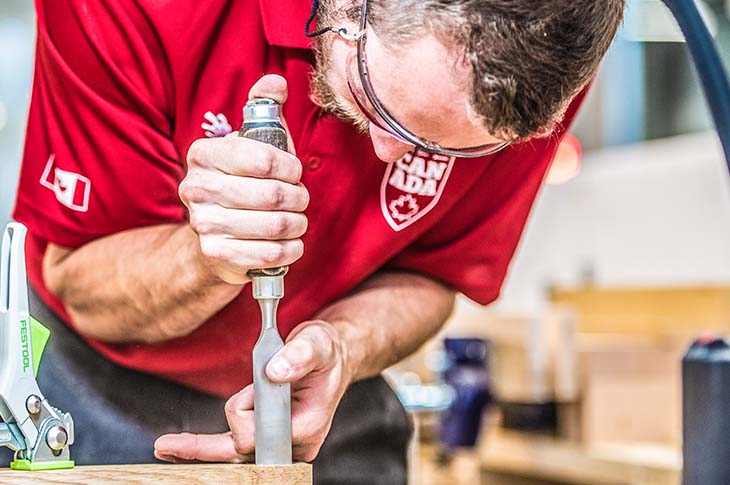 "Over these ten years, we've used the TTC to host regional Skills competitions, and it's helped us gain Skills success at the national and world levels," says Jim Szautner, Dean of the School of Manufacturing and Automation. "Just one example is the Mechatronics category, where we've had bronze medalists, silver medalists and, this fall, two gold medalists in Mechatronics competing at the world level."6
The Johnson-Cobbe Energy Centre is also a venue for international competition, with the International Society of Automation (ISA)-SAIT Student Section hosting the 10th annual World Student Games in March 2023. Presented in partnership with SAIT's MacPhail School of Energy and industry sponsors, these are the world's largest student-led industrial automation games.
6 
After LINK went to press in October 2022, Culinary Arts graduate Korae Nottveit topped the WorldSkills podium,
earning a gold medal
in the cooking category. Competing against young chefs from around the globe, Nottveit came out on top, bringing home Alberta's first Skills gold medal and Canada's second Skills gold medal in the cooking category.
3. FRAMING THE FUTURE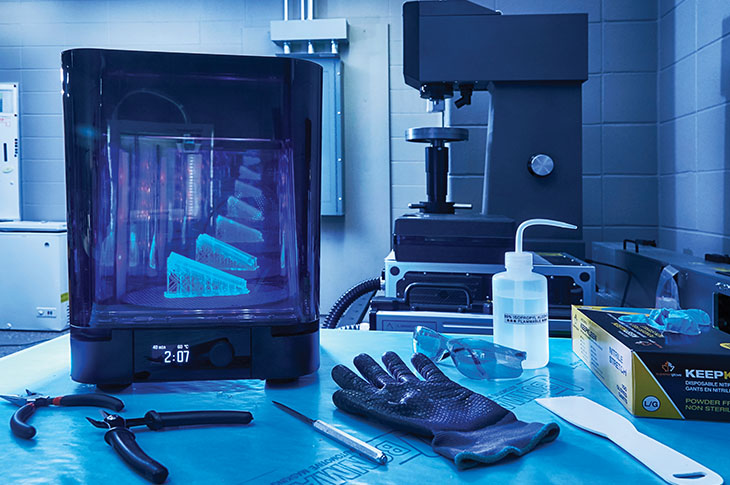 As the TTC enters its second decade, the Founding Builders Home Lab 7 is evolving into a hub for innovation, sustainability and exploring new building methods. Says School of Construction Dean Reva Bond: "Our student MakerSpace is moving into that lab, where students will be able to experiment with everything from automating mechanical systems to 3D modelling — and even to build their own 3D printers."
The lab is also used to host Framing the Future, a series for conversation and collaboration with industry. "We're evolving from semester to semester because that's the pace of change," Bond says. "As a leader in applied research, SAIT is using this space to both respond to industry and help it move into the future."
7 Located in the Thomas Riley Building, which received a $60-million renovation as part of the TTC project.
4. A LEARNING TOOL FOR STUDENTS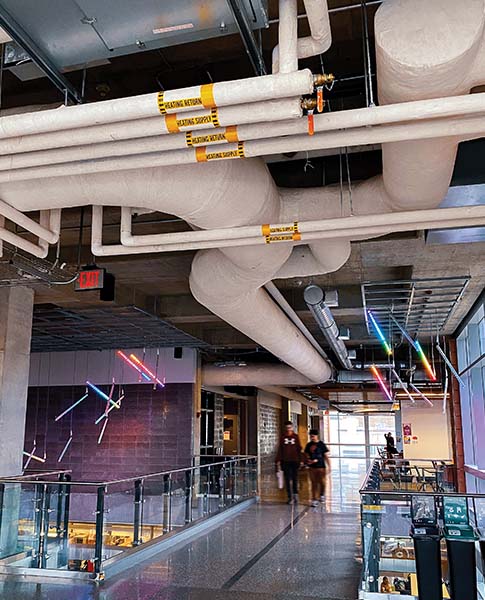 Mechanical systems, conduits, pipes — the TTC's inner workings are out in plain sight (as seen in the image on the left). "Opening up and celebrating these building systems makes the TTC a living lab of applied learning and really speaks to the essence of what we do at SAIT," Szautner says. 
Before COVID lockdowns, Architectural Technologies instructor William Thompson (BCPM '21, AT '04) would take his students on "walk and talk" lectures, examining elevator hoistways, plumbing systems, HVAC and building code requirements. And, he says, the Aldred and Stan Grad Centres offer great case studies of glazing system components and installation techniques.
"Over the years I moved these tours to the end of the semester, so students could learn about each system theoretically before seeing the real thing," Thompson says. "Then they better recognize what they're looking at. The lightbulbs go on, and they have a lot more questions."
5. PRIDE OF PLACE II
"The spaces we sit in for eight hours a day — they matter," Bond says. "I still hear stories about how some of our trades students8 are in awe when they set foot in the TTC — even to the point where they think they're in the wrong building because it's interesting, it's clean, big, airy and just gorgeous.9 Walking into the Aldred Centre — it really makes a statement."10
8 The 740,000-square-foot TTC project led to the largest number of new programs in SAIT's history, including expanded opportunities for apprenticeships.
9 Besides its good looks, the TTC was purpose-built for students and faculty. A core group of instructors worked with lead designer Gibbs Gage Architects on education-centered design and layout for shops and labs.
10 Alberta Construction Magazine named the TTC its 2012 Project of the Year as a "showcase for innovation and collaboration."
6. RESEARCH EXCELLENCE11
In 2013 — just one year after the TTC opened — SAIT was ranked first in Research Infosource Inc.'s inaugural list of Top 50 Research Colleges in Canada. We've been on that list ever since.12
In specialized labs and facilities13, SAIT's Applied Research and Innovation Services (ARIS) research teams — including students14 — develop technologies as the applied research needs of industry and society emerge and evolve.15
Just two examples: in 2021, a research project developed by the Centre for Energy Research in Clean Unconventional Technology Solutions (CERCUTS)16 was one winner of The City of Calgary's first Mayor's Innovation Challenge. The Battery Storage project demonstrated a breakthrough vanadium redox flow battery system as a long-term solution for energy storage that would address issues around electricity demand, alternative and renewable power intermittency, energy grid stabilization and climate resiliency.17 And in 2022 — after a series of climate events including wildfire, flooding rains, extreme cold and heavy snowfall — the Kanaka Bar Indian Band in British Columbia contacted ARIS's Green Building Technologies (GBT) division to work with other experts in building a database of construction materials and techniques for resilient, energy efficient, affordable homes.
11
SAIT won the 2022 Gold Award of Excellence from the World Federation of Colleges and Polytechnics in the Applied Research and Innovation category. It recognizes demonstrated excellence in advancing environmental sustainability through knowledge, tools, practises and technologies.
12
Ranking 6th in 2021
.
13
50,000 square feet with full-time research staff dedicated to helping industry take products from concept to prototype.
14
Through practicum placements, capstone projects and as student research assistants.
15
90 prototypes per year; 244 companies annually.
16 
One of five key ARIS research areas
.
17 
Learn more about
a research project currently underway
in ARIS's Centre for Innovation and Research in Advanced Manufacturing and Materials (CIRAMM).
7. EMPOWERING TOMORROW'S STUDENTS
Since 2017, the Johnson-Cobbe Energy Centre — home of the MacPhail School of Energy — has also been home to the Career Exploration Centre (CEC)18, an immersive space where — pre-pandemic — more than 10,000 Grades 9 and 10 students were invited to make well-informed career decisions based on hands-on, real-world experiences. 
"Our youth initiatives — everything from dual-credit programs to summer camps — are designed to provide young people with opportunities to experience excitement about education and belonging in the SAIT community," says Rozlynn Wick, Project Manager for Strategic Youth Initiatives in Learner and Academic Services. "These initiatives also give youth a sense of being prepared for the future and that they can succeed."
8. BUILDING CONNECTIONS
Functional, efficient and capable of accommodating new technologies, the TTC owes much of its success to the passionate engagement of SAIT graduates. Although contributions to the Promising Futures™ fundraising campaign came from a wide range of donors, including businesses, corporations, associations and foundations, the vast majority of gifts — approximately 69% — came from graduates. And between 60% and 70% of the two million+ labour hours that went into TTC construction was undertaken by SAIT graduates.
9. REAL-WORLD ECONOMIC IMPACT
Ten years after the TTC's new buildings created more learning spaces, today's employers rely on SAIT graduates throughout the energy, construction and trades workforce.19
Many of those employers are SAIT alumni themselves. "Without SAIT, I wouldn't be the person I am today," says Jay Westman (BA '84, Distinguished Alumnus '97), Co-Founder, Chairman and CEO of Jayman BUILT. "I'm a proud SAIT grad, I hire SAIT grads, and I want to champion the next generation of SAIT grads."
That's why Westman recently visited SAIT to announce the BILD Alberta Scholarships for Construction Careers, a province-wide initiative addressing Alberta's shortage of skilled tradespeople through a $15-million investment campaign to fund scholarships for careers in construction.
19 90% of people in SAIT's 2022 Employer Satisfaction Survey agree SAIT provides graduates with appropriate skills, and 90% are satisfied with the quality of SAIT alumni.
10. IT'S A STUDENT MAGNET
Just one example: with the opening of the Cenovus Energy Centre as part of the TTC, facilities for SAIT's Power Engineering Technology (PET) program expanded from a one-room lab to a four-storey, purpose-built re-creation of an industrial site — setting it apart from all other North American power engineering training facilities. 
SAIT's Dean of Academic Services, Lisa Weatherby (AXT '00), remembers the response of one student on the PET program's waitlist. "When we called at the end of August, he dropped his course in Nova Scotia, packed his stuff and moved to Calgary in a matter of three days — because he wanted to study at the Cenovus Energy Centre," Weatherby remembers. "He'd seen pictures of it and knew he wanted to work in its labs."
---
This story was originally compiled for the print version of the Fall 2022 edition of LINK magazine.
Like what you are reading?
Find more stories from past, present and upcoming issues of LINK magazine!
Explore LINK