SAIT's 2022 Giving Day creates critical opportunities for students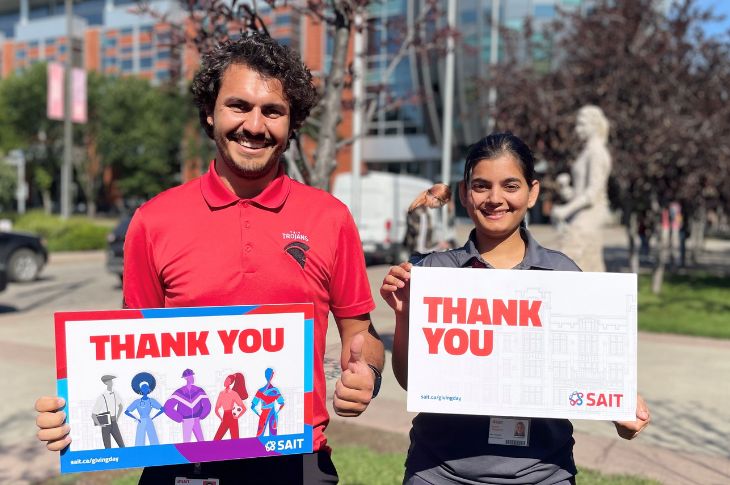 This year, SAIT Giving Day raised $119,710 for various student supports and services across campus from 234 donors. 
| | |
| --- | --- |
| SAIT Opportunities |  $   26,688.00 |
|  I.G. Lewis Student Emergency |  $   20,075.12 |
|  Metis Education Foundation Endowment |  $   16,973.93 |
|  Inclusion Matters |  $   12,290.00 |
|  Athletic Contingency Fund |  $     8,400.00 |
|  SAITSA Emergency Food & Wellness Bank |  $     5,328.69 |
|  International Student Support Bursary |  $     5,218.34 |
At SAIT, the importance of Giving Day goes far beyond the dollars raised. It's about rallying together to maximize awareness, especially emerging areas critical for student success.
A hand-up for students with #SAITGIVES
The reoccurring topic of food insecurity and financial hardship came up throughout the Giving Day campaign.
After learning about the influx of support requests Saitsa received in early 2022, leading to the Food Fund program being suspended until Saitsa's new fiscal year started in the fall, SAIT employee Donna Lambert chose Saitsa's Emergency Food Fund and Wellness Bank to dedicate her gift to and help build awareness of the immediate need through the #SAITGIVES Hashtag Challenge — $1 was donated for each use of #SAITGIVES on social media up to $1000 We didn't quite reach that goal, but Donna has agreed to give her full $1,000 pledge to the fund.
"When it comes to our students, we want to build awareness," says Anna Kravchik, Manager of Annual Giving. "It's important for them to know and understand where funding for awards and assistance comes from. Helping to spread the word with #SAITGIVES is one way that we try to build that knowledge and understanding."
Living in his car, 2022 Refrigeration and Air Conditioning Mechanic student Andrew Drummond's* already precarious situation continued to worsen to the point where he could no longer focus on his studies. He reached out to Student Services and was met with massive relief for his unique situation.
"While tight budgets may be the reality for some of our students, it does not mean that the experiences of students struggling to feed, clothe and house themselves in a dignified way are "normal" or healthy," explains Saitsa Director of Student Services, Rachel Paris.
Your "why"
Whether it's a mood booster and makes you feel good, it aligns with your personal and family values, or you want to give back, your "why" or purpose for giving is an individual one. As members of the SAIT donor family made their gifts, they also shared their reasons for supporting SAIT hoping to inspire others to do the same.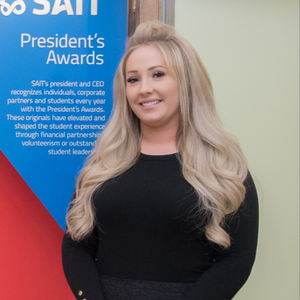 I give to SAIT because it changed my life!

I met lifelong friends and professional connections, earned my bachelor's degree, and discovered parts of myself I didn't know I had while doing the hard self-work and my studies, all with the support of student funding.

I am a proud SAIT grad and employee, and I encourage you to support student success along with me. – Sara Land (program, year) 
Thank you!
Thank you to the entire community — students, alumni, employees, partners and donors – for helping to make Giving Day a success! If you missed out on the event, you can still help students by making a gift that is near and dear to you.