Linda Olsen — 2022 Distinguished Alumna
Text by Michelle Woodard | Photos by Kate KÜNZ
27 September 2022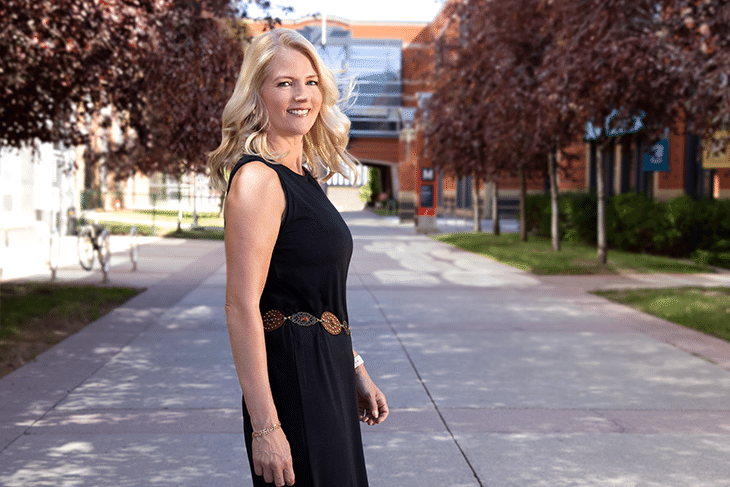 ---
 You don't always have to go far to go far.
Every weekday, as Linda Olsen takes a seat and clips on her microphone at the Global Calgary news desk, she takes a moment to think about who she's about to talk to. 
"It may sound cliche, but my work comes from my heart. A big part of how I identify as a broadcaster – and how I present myself and the news – is by literally talking to the people of my hometown."
Olsen's connection to Calgary runs deep. Other than her first job after graduating from SAIT – a six-month stint at Global Saskatoon – her 34-year career has been spent in the city where she was born and raised by supportive, community-focused parents. She still lives just a short drive from her elementary and junior high schools. She raised her three adult children here. But spending decades producing and anchoring means that she has seen her city at its best, worst, and in full-on crisis.
What keeps her going?
"I know that local news is important. Being in the middle of it all and giving people a bird's eye view of what's happened in their city that day – whether the story is touching, gripping, sad or inspiring – really means something to me."
But it isn't always easy. Covering the 2013 Southern Alberta flood for days on end; rushing into the station to report the loss of a first responder; breaking stories of incredible loss that hit close to home — these are just just a few times that have given Olsen pause.
"Sometimes, for a split-second, I've felt like I couldn't do it, but I push on because this isn't the kind of job where you can mail it in. People are counting on me, and it's just what I have to do."
For 15 years, Olsen was also the driving force behind Global's Woman of Vision, highlighting other women who care deeply about serving this city. As producer and host of the award-winning series, she asked nearly 200 women to talk about the influence they have within their communities. So, LINK asked Olsen about her own influence.
"I've got goosebumps. I never think of myself that way – I've always been just plugging away, learning, growing and doing my job. But after 34 years, if I have influenced some people in some way, I hope it was to leave them with a sense of how much I truly care about this city. To have spent pretty much the entirety of my career here has been a gift that I appreciate every day."
Opportunity Makers
If a single trait connects all of SAIT's 2023 Alumni Awards recipients, it's their ability to make the most of an opportunity. They're turning tragedy into community, using AI to help protect the planet and building spaces that bring people together. This year, two new awards — the International Impact Alumni Award and the Clarence Hollingworth Alumni Employee Award of Excellence — are being presented to two SAIT graduates seizing opportunities to make a difference from across the Atlantic and right here on campus.
Meet our recipients