"They finally found it"
Nicole Brandt
10 March 2022
After more than half a century, a mysterious Heritage Hall discovery brings a family legend to light.
As soon as she received the call on Dec. 1, 2021, Michelle Fernandes headed down to where contractors with Chandos Construction were doing restoration work on Heritage Hall's west steps.
As Associate Director of Projects, Planning and Design, she was the first person workers called when they found a package hidden deep underneath the steps — right next to the building's century-old foundation.
"The package was pretty innocuous. It looked like a Subway sandwich — wrapped in kraft paper with lots of question marks drawn all over it," says Fernandes. "After a quick check with Campus Security, our team determined it was safe to open. And it became very clear someone had placed it under those steps on purpose."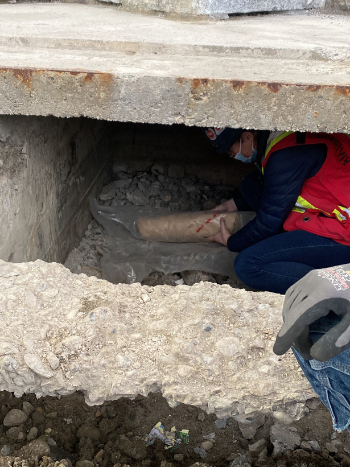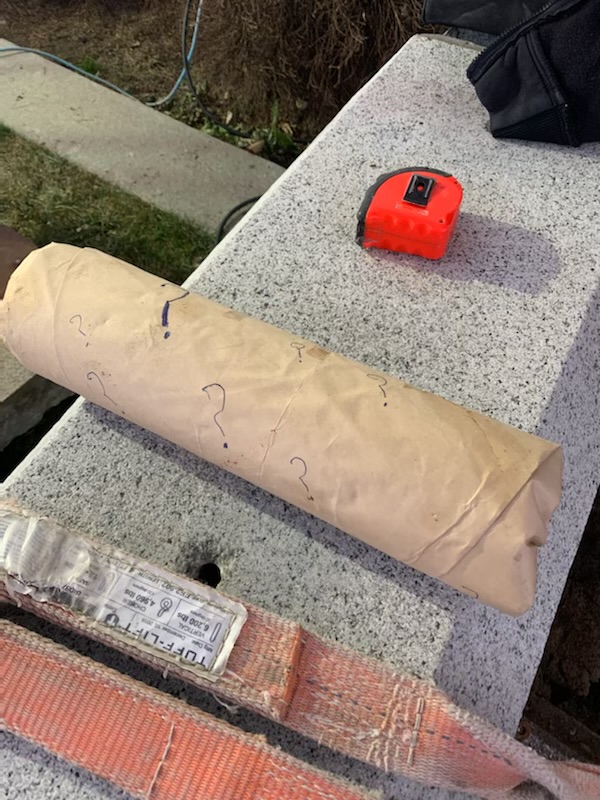 Rolled up inside were copies of The Legionary, various newspaper articles, a catalogue of bricklayer tools and supplies, and a "winning" ticket from Publishers Clearing House dating from 1968. In the center was a major clue: a piece of paper with a Canadian centennial dime taped to it and a handwritten note reading "Property of William M. Kitiuk" with — crucially — an address.
Fernandes and her team got to work figuring out the mystery. With the help of the Alumni and Development department and SAIT's Archivist, they quickly found that a "William M. Kitiuk" had graduated from SAIT and is teaching 5 th Class Power Engineering part-time at the Institute. 
When William got the call from Fernandez, he says, "All I could think was, 'They finally found it.'"
William (POW5 '01, PWR4 '17) has fond memories of visiting SAIT with his father, Donald Kitiuk — and one memory, in particular, has stuck with him for nearly 45 years.
"We were walking by Heritage Hall when I was about 12 years old, and my dad told me he had put something under those steps and not to be surprised if I got a call one day. He didn't tell me what, just that a package was there. I never forgot that day and have wondered through the years if someone had found it.
"Dad was a bricklayer by trade and a bricklayer instructor during the 1950s. He had his hands on a lot of these buildings and helped to build most of the older ones on SAIT's campus — he loved them and was very proud of the work he did," William shares. "He also enjoyed working with his apprentices and his time teaching here."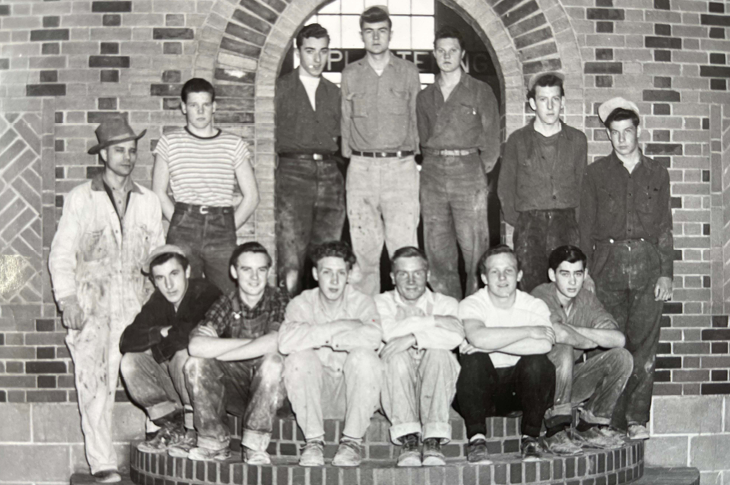 Before becoming a bricklayer and an instructor at the Provincial Institute of Technology and Art (PITA, as SAIT was known before 1960), Donald served overseas during the Second World War with the British Columbia Dragoons armoured regiment. He fought in Italy, France, Germany and the Netherlands and was a part of the Allied forces that liberated Holland. But William and his sister, Kathy Neufeld, remember their father fondly as a trickster, a treasure hunter, a coin collector, and just a fun-loving guy. Leaving "his mark" was common for Donald — the time capsule hidden at SAIT wasn't his first and likely won't be the last.
"I only recently found out my mom, Anne previously got a call from the Calgary Remand Centre. They had found a bunch of papers in the walls and came to the house and went through the contents with her. Knowing Dad's practice placing time capsules in various buildings, I don't think she was surprised."
Over the course of a 30-year career, Donald's resume included work on various hospitals (Foothills Medical Centre, Alberta Children's and Calgary General hospitals), Calgary high schools (Western Canada, Queen Elizabeth, and Sir Winston Churchill), the Southern Alberta Jubilee Auditorium — including the installation of the Robert the Bruce statue on its stone and concrete plinth — and several provincial government buildings throughout southern Alberta. With the range of projects Donald worked on, it's easier to predict where more packages will be found than it is to predict when.
"It's a very special finding with a lot of happy coincidences," William says.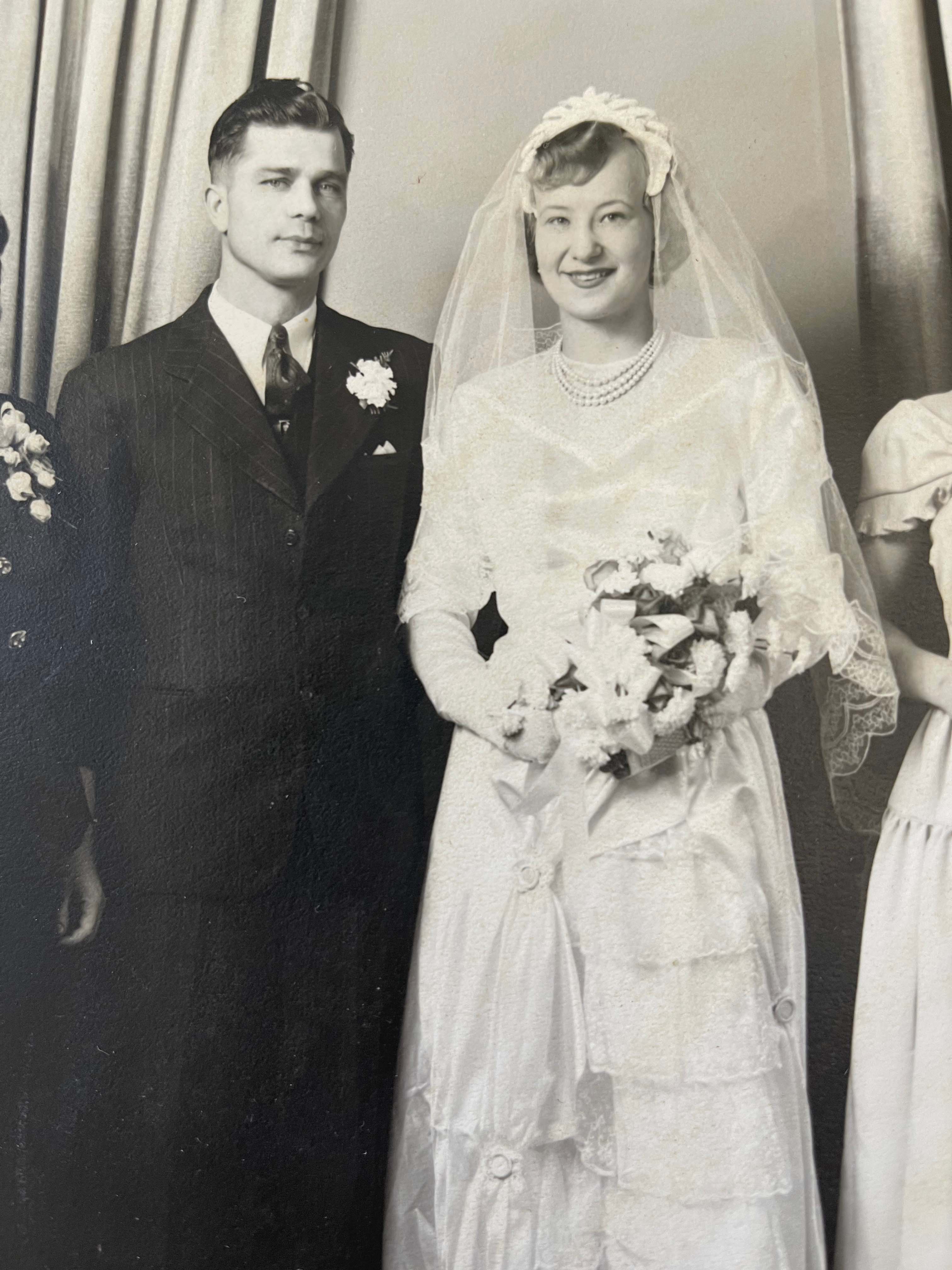 "It's a very special finding with a lot of happy coincidences," William says. Just weeks before receiving SAIT's call about the discovery, the Kitiuks sold their family home — built of brick and yet another example of Donald's pride in his work. The day William and Kathy were reunited with the time capsule's contents would have been their parents' 72 nd wedding anniversary, and just days after, Anne would celebrate her 94 th birthday.
"We all enjoyed going through the package together and laughing at some of the items Dad included. It was special that he put our address on the package so we could be contacted. This tells me he was thinking of his family when he did it. I'm sure he was laughing at the time also," says William.
As restoration work continues on Heritage Hall's parapet and external staircases, we wonder: what might be discovered next?
A look inside the time capsule
Here's a first-hand look at some of the contents of the package, some photos of Donald Kitiuk from his youth and those involved with the recovery and reunion of the contents with the Kitiuk/Neufeld family.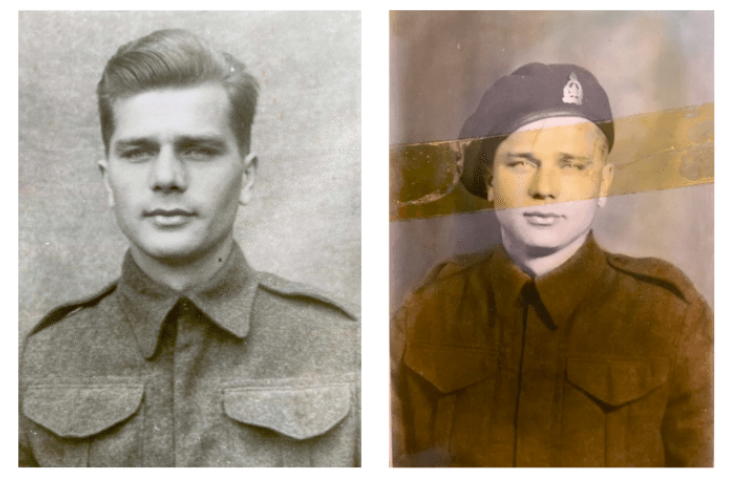 Photos of Donald Kitiuk as part of the British Columbia Dragoods armoured regiment during the Second World War.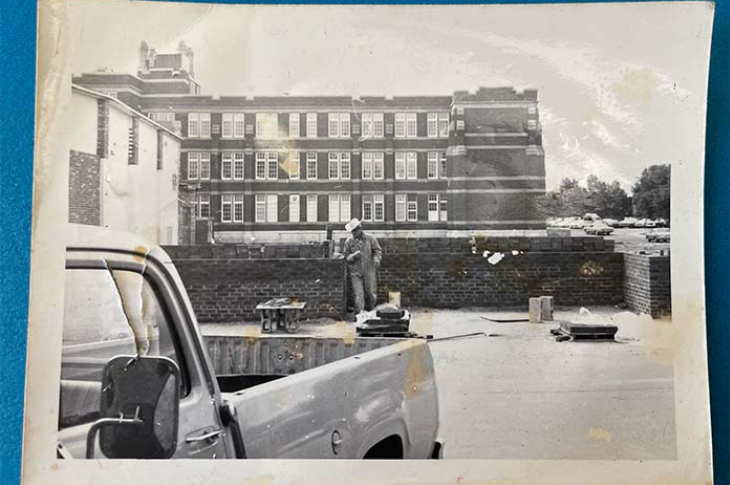 Photo taken by Donald Kitiuk. On the reverse he wrote, "SAIT. I built brickwall just south of Govt. offices. About 1980".
William Kitiuk and Kathy Neufeld, children of the late Donald Kitiuk.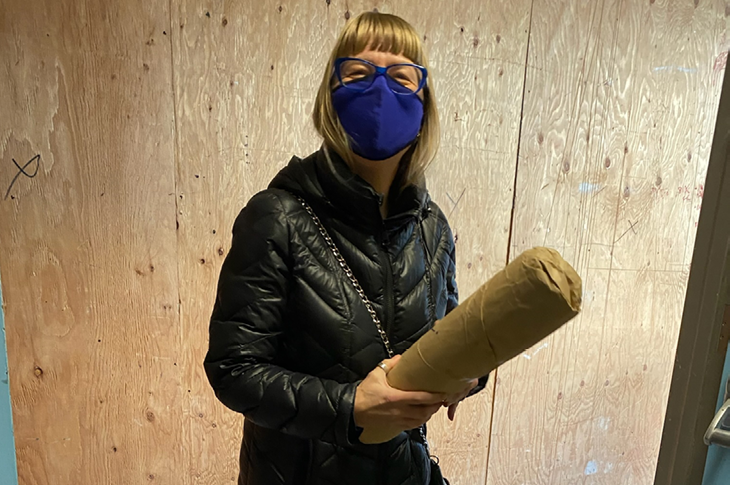 Tracy Wylie holding the found package.
Photo of the package after the plastic was removed to reveal questions marks written all over. 
Publishers Clearing House mail found amongst the contents of the package.
June 1968 issue of The Legionary, National Magazine of the Royal Canadian Legion.
January 1968 issue of The Legionary, National Magazine of the Royal Canadian Legion.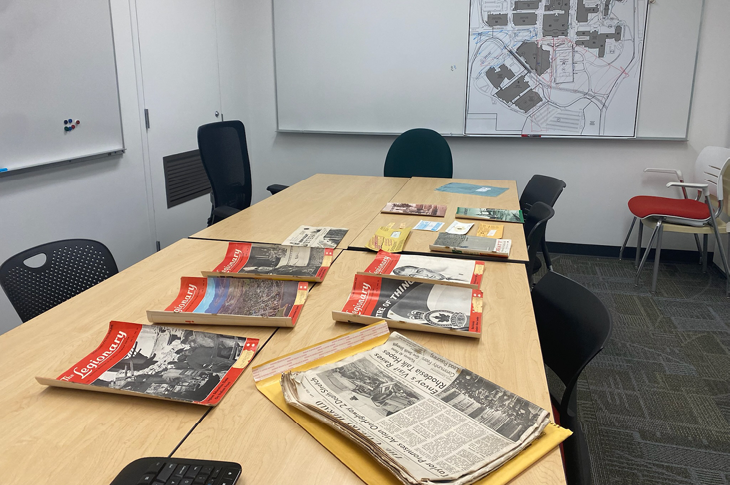 Contents of the package laid out on a table.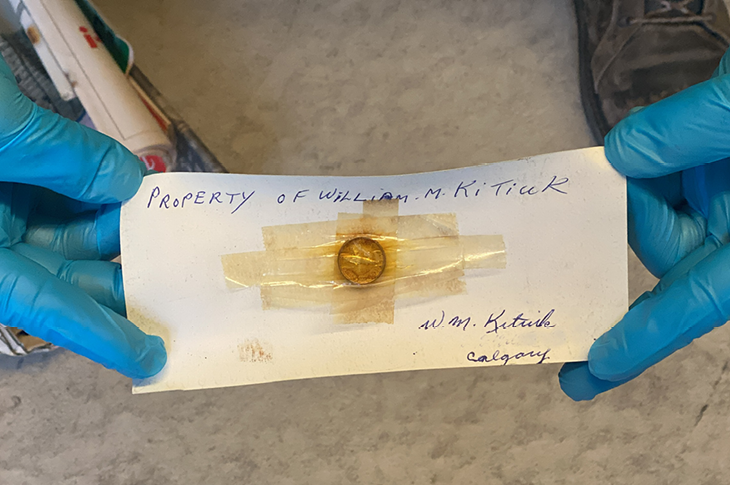 A major clue within the package, a note — "Property of William M. Kitiuk" — and a 1967 centennial dime.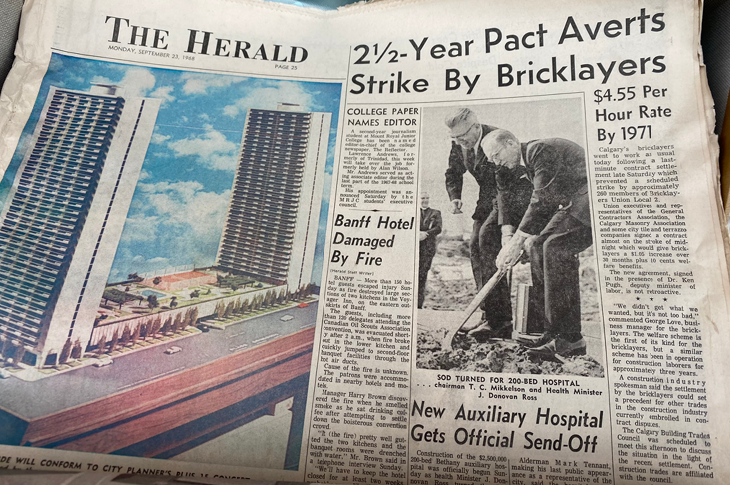 The Herald newspaper found within the package. Make note of the headline "2 1/2 year pact averts strike by bricklayers."
---
Celebrating 100 years of history
To commemorate the first 100 years of the iconic Heritage Hall building, we released an intriguing eight-episode audio series and dedicated the Spring 2022 issue of LINK magazine that share the memories and stories from SAIT alumni, employees and neighbours.