Celebrating 107 years with simple pleasures on his birthday
Clarence Hollingworth's philosophy on life is a good reminder to live in the moment. He's as spry today, on his 107th birthday, as he was on his 7th.
"I woke up today. So, today is going to be a good day," says Hollingworth (Electrical Engineering Tech 1934). "I feel like I've had about 120 birthdays now."
Older than the buildings, and even SAIT itself, Hollingworth can still recall being six years old in 1921 and watching as the cornerstone was laid for the Heritage Hall building. In 1933, he would enroll as an electrical student at the Provincial Institute of Technology and Art (PITA, now known as SAIT).
"I have a lot of good memories of SAIT." Hollingworth continues, "I lived across the street from SAIT as a child. There were no trees or buildings. But then they [the City of Calgary] put in the road at 14 th Street. I would dig along the east wall, there was a lot of clay, but we would find mercury. Whenever you saw that, it would be in a little pool all to itself. You could pick it up, and it was heavy as lead and had nice shiny qualities."
Clarence Hollingworth as a child with his dog Nelly
Clarence Hollingworth (Left), his father (Centre) and brother Lesley (Right)
Clarence Hollingworth as a young adult
Clarence Hollingworth dressed in his naval suit during the Second World War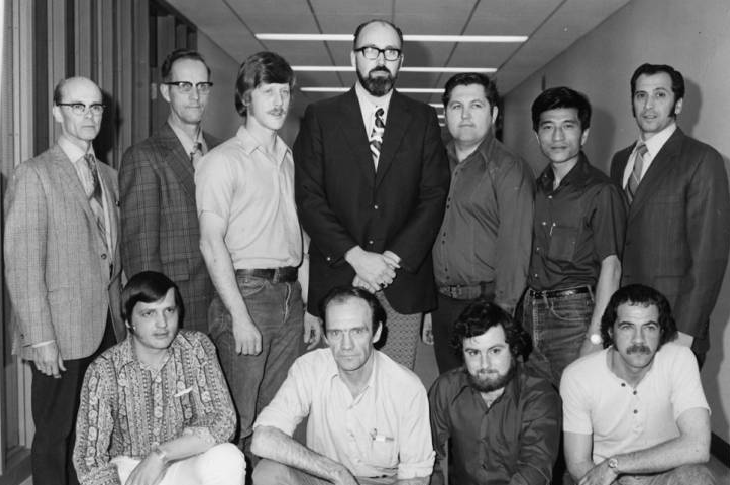 Group photo of instructors of the Electrical Department at SAIT. Clarence is first person on the left in the back row.
Clarence Hollingworth was the Honorary Degree Recipient in 2015
31 years after seeing the cornerstone laid, he would find himself back at SAIT. This time as an instructor in the Electrical Department in 1952.
"I used to work out in the industry in electrical. One day I was asked if I would like to teach, and I said, 'sure!' I liked teaching because it was such a clean job compared to the other and a lot easier. I taught electrical for 28 years at SAIT."
"Quite a few students of mine also turned out to be teachers at SAIT. I remember a young guy, Jerry Dirk, who was my paperboy. When Jerry got older, he came to SAIT and was a student of mine. In time, he would go on to also become an instructor at SAIT," says Hollingworth.
Until the pandemic, Hollingworth was able to keep in touch with his former SAIT students and colleagues such as Jerry Dirk and Ed Tickles.
As a centenarian, Hollingworth's connection with SAIT has continued. In 2015, his centennial birthday year, Hollingworth was recognized with a Bachelor of Science degree at SAIT's spring convocation. On his 103 rd birthday, SAIT created the Clarence Hollingworth Scholarship to commemorate his milestone birthday. The scholarship provides $1,000 to help a deserving pre-employment electrician student achieve an education at SAIT.
When asked how he plans to celebrate his special day, his granddaughter Sheila McKillop has a plan.
"We're having a small celebration with the people in his residence. There will be a visit from the Calgary Fire Department to sing happy birthday as well as a visit with a representative from the Veterans Association," says McKillop. "On the weekend, we'll be joined by two of Papa's daughters where we will have his favourite lunch: bologna, ham and cheese sandwiches and lemon meringue pie."
"Ooh, I sure do like lemon meringue pie," Hollingworth cheerily says.
From all of us here at SAIT, Happy Birthday, Clarence!