The value of connection
Written by Keane Straub | Photography by Keane Straub and Nick Sopczak
17 June 2022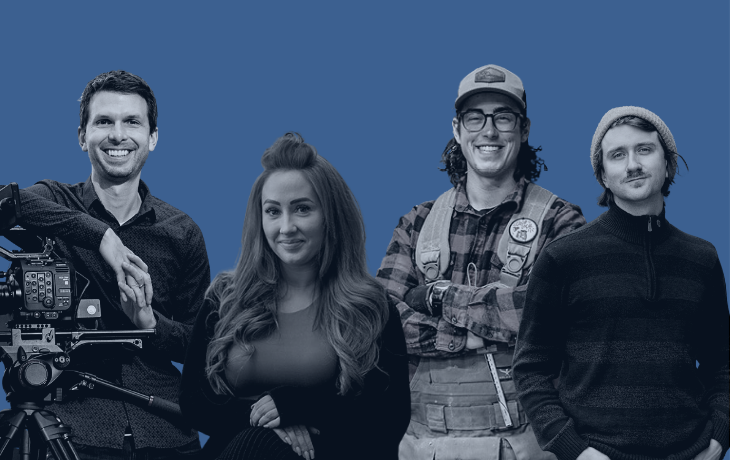 If you're reading this, chances are you're one of SAIT's 250,000+ alumni. With that distinction comes reduced insurance rates, special SAIT Recreation membership rates, and lifelong access to My Career Hub— all traditional perks adding value to your life.
But in a city fuelled by the oil and gas industry yesterday and tech-driven today — and in a digital world that "gets us" by offering personalized playlists and shopping recommendations — there is no "one size fits most" alumni experience for an institute with graduates as varied as the passions that drive them.
Tapping into local resources
Harley Griffin (ACPP '18) is a young entrepreneur and owner of Stone Mountain Projects, a custom woodworking business. He knows promoting your brand can become a full-time job on top of everything else.
"Once you're self-employed, you don't really have anyone to rely on for paying your mortgage or paying your bills — so you have to go out and hustle and grind and find your customers," Griffin says. "As a small business, you take any chance possible to get your name out there."
When he received an email from SAIT earlier this year about its new Alumni Business Directory, Griffin decided to sign up.
Now his business is listed with more than 50 others in varying industries, all owned and operated by alumni. But as someone who has seen success using social media to promote himself, Griffin sees an opportunity for SAIT to do the same and raise awareness among people looking to support local businesses.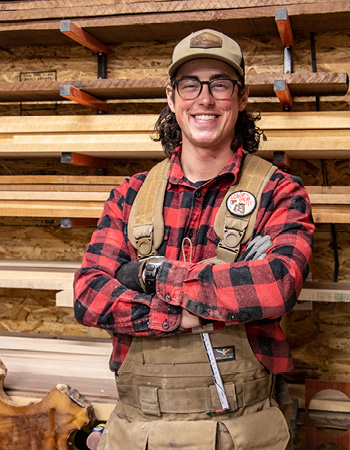 "There are a few Instagram accounts specific to Calgary that I bet would love to promote SAIT's alumni business directory," Griffin says. "The general public doesn't know there's this whole resource they could be tapping into."
It's just one example of how relationships between alumni and their schools are changing.
Traditionally, schools have played a major role in connecting alumni with one another — everything from offering various social gatherings to running class notes in their alumni publications. But today, social media helps people connect with a wider network of fellow alumni, with others in their industry, and even with potential clients and customers.
To respond to these changing technologies and expectations, SAIT's Alumni and Development department is introducing new resources and programs based on feedback collected from graduates through surveys, focus groups and research.
"Alumni are basically telling us they don't find much value in a social convening situation," says Associate Director of Alumni and Development Astrid Gagnier. "They're looking for more."
Alumni's partner in lifelong learning
"More" includes continuing education and upskilling, along with job boards and opportunities to develop coaching and mentoring skills. "Students come to SAIT for their careers, and graduates tell us they're looking for long-term, lifelong career support," Gagnier adds.
Such feedback in part led to the establishment of the Alumni for Alumni Bursary in late 2020. Offered in celebration of reaching the 250,000 alumni milestone, and funded through TD Insurance Meloche Monnex with matching funds from the Government of Alberta, this pilot project involved half a million dollars made available to alumni for training through SAIT's Centre for Continuing Education and Professional Studies.
It was purely coincidental that the bursary was launched just as COVID-19 became a pandemic, but it was a huge win for SAIT grads. Close to 700 alumni took advantage of the offer, and the full amount was dispersed.
"We knew people were going into a long, dark winter," continues Gagnier. "We were able to put forward that money for alumni to take whatever continuing education programs they were interested in. It's not us saying, 'This is what you should be focused on'; it's us saying, 'We will help you cover the cost of these courses.'"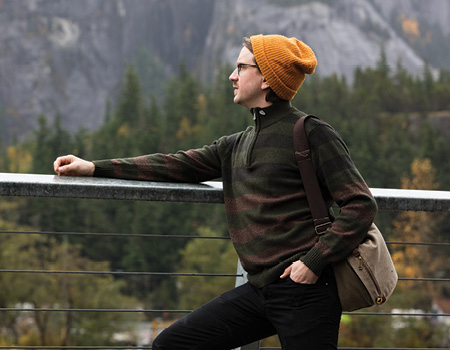 For Kevin Kirkpatrick (FVP '08), a self-proclaimed "student of life," the email to SAIT alumni outlining the bursary came at the perfect time — right at the beginning of that long, dark winter.
He'd been working as a freelance editor, but wasn't sure if he wanted to go further in that direction.
"I thought, 'I've nothing else going on right now, and I do want to buff out the resumé a little bit and round out some skills.'"
Having experienced the effects of supply chain disruption — Kirkpatrick was working at a café when the Ever Given container ship was stuck in the Suez Canal, and he saw first-hand how it affected everything from canned beverage availability to the price of tapioca — he decided to enrol in SAIT's Operations Management course.
Today he's living in Squamish, B.C., working as a production team member at a sustainable building company — an opportunity he chalks up to having access to lifelong learning at SAIT. "I don't know if I would have gotten my foot in the door without having taken that course."
The benefits of volunteering
For Sara Land (BBA '19, BA '17), volunteer work has always played a key role in her relationship with SAIT. Now working as a Client Engagement Associate in Corporate Training at SAIT, Land was a student volunteer with various Saitsa initiatives, and she's an active volunteer with Calgary Health Foundation. She's also part of the Industry Mentorship Program, a project being piloted this winter to connect SAIT students with alumni who can provide insights on what to expect in the workplace.
"When this mentoring opportunity came up, I was happy to help contribute to the community that had made such an impact on my life," Land says. "I find it's so rewarding."
The informal mentors she had early in her career helped Land grow both personally and professionally. "They gave me a safe space where I could learn by example and come to them when I needed advice."
Now that she has graduated, Land brings a different perspective to the challenges and experiences students sometimes face.
"I know the value of a mentor and being able to develop that relationship," Land says. "To be given the opportunity to be a mentor was a full-circle moment for me. It really excited me to be able to relate to students, and to share that journey with them."
Giving back by getting involved
In April 2021, Scott Westby (FVP '08) shared another kind of journey with his fellow alumni as part of What Works, a speaker series on topics geared to supporting continued career development for grads.
Westby participated in an online panel with his business partner, Matt Watterworth (FVP '08, OYA '15), describing how they produced and financed their film In Plainview. They also talked about industry developments in Alberta and answered audience questions.
In fact, Westby says, he agreed to be a part of What Works "before I even knew what the series was.
"The business side of filmmaking is complex, and I think you need events like What Works to bring that to light for students," says Westby. "When you graduate you cannot be prepared for what the film industry is."
What Works has covered broad topics such as equity, diversity and inclusion, how to advance your career using labour market information, and resiliency. While Westby agrees these are all equally important, he feels there are opportunities for the series to be program-specific and focused on the next steps after graduation.
"You realize graduating college isn't the end, it's the beginning," explains Westby. "Starting a career is a tough spot to be in, and hearing people who have made it through that time talking about their journeys can be a comfort."
The meaningful conversations, mentoring opportunities, lifelong learning and professional development experienced by Westby, Land, Kirkpatrick and Griffin are four immediate ways alumni are gaining new value from their connections with SAIT — and Gagnier says plans are underway for programs to be revised, expanded or launched over the next five years.
"The connection I'd like to make is for people to know that, once they graduate and become alumni, SAIT continues to have their backs," she says.
Explore the value of being a grad
As a member of the SAIT alumni family, you can enjoy exclusive perks, events contests and unique volunteer opportunities. Learn more about the benefits available to you.
This story was originally written for the print version of the Fall 2021 issue of LINK.