Human connection, technology and the future
Zachary Robertson
26 May 2021
SAIT graduate Ben Reed has spent his career bridging the gap between people and technology so we can all breathe a little easier.
---
For SAIT graduate Ben Reed (Information Technology '11), a career in information was just one of the options he saw himself pursuing. Growing up in a small community in Saskatchewan, Reed had a passion for musical theatre, but was also curious and excited by the connective powers he saw emerging from new technologies such as cell phones.
 "I wanted to possibly go into musical theatre or something really technical — a pretty weird and dichotomous perspective," explains Reed. "I didn't take many computer courses or go deep into calculus or anything, but I was interested in how people connected to each other with technology."
Fast-forward 10 years — and several unique jobs later — Reed now serves as VP of Products at Vancouver-based TZOA, a small, technologically innovative company that delivers air-quality solutions to households across Canada.
How people connect
"My journey in technology started with looking at the trends in how people connected through technology," says Reed. "Smartphones hadn't become a thing yet, but cell phones were becoming commonplace."
That interest in human interaction led Reed to pursue a degree in psychology at the University of Saskatchewan. But he soon found textbook psychology wasn't necessarily what interested him about the human connection.
With that realization, Reed took the chance to figure out what it was that he really wanted to do and took a job at a telecommunications company doing fieldwork. He found this work particularly interesting but wanted to move towards a specialized career.
After a move to Calgary and a brief time at DEVRY, Reed decided to enrol in SAIT's Information Technology program, specifically in Telecommunication Systems.
"I was still longing for a deeper and more applied level of technical training — and that's where SAIT came up," he recalls.
A community of makers
While at SAIT, Reed became involved with Calgary's Protospace and the Maker movement, a worldwide community of innovative thinkers and makers who share their knowledge and passion for creation.
"The capstone project and the Makerspace movement… were a catalyst for my interest in product design and technology projects," says Reed. "It was just so amazing to see this convergence of super quirky and passionate people who all amplified each other's skillsets through shared curiosity."
Following graduation, Reed spent four years at SAIT's Applied Research and Innovation Services lab as a Principal Investigator working on a wide range of innovative and exciting prototypes and projects.
Reed left SAIT to join the client company VEERUM — a high-tech startup pioneering digital twin technology for the world's biggest construction projects. At VEERUM, Ben deployed virtual reality systems, robots, drones, and long-range wireless technology to bring the remote job site to the head office, helping stakeholders make better decisions with less rework.
After a move to the west coast, Reed was on the hunt for a new opportunity when a friend from the Calgary Makers community offered him a position at TZOA. Before that, air quality had not been on Reed's radar as far as career opportunities.
"I had been to China before and seen the smog in some of the big cities… and thought 'wow, this can be really nasty.'" he recalls.
Through his work at TZOA, Reed found a new opportunity to explore his passion for connecting people through technology — this time with direct benefits to health.
"Our homes are not built for human health. They're built for comfort first," he says.
Reed and the team at TZOA came up with an exciting solution utilizing technologies that can monitor and automate indoor air quality for residential homes. HAVEN IAQ, the company's central air monitoring platform, monitors key elements of air quality and uses automated hardware and software technologies to adjust air quality levels.
"Making the world a better place through technology is kind of the theme of what my life has been about," reflects Reed. A goal that ties directly to TZOA's commitment to "improve planetary health and deliver clean air to all."
Bridging the gap
Throughout his career, Reed has stuck closely to his passion for using technology as a bridge between people.
"Technology only exists because people exist, and for me, most of the time technology is supposed to be that bridge between the two."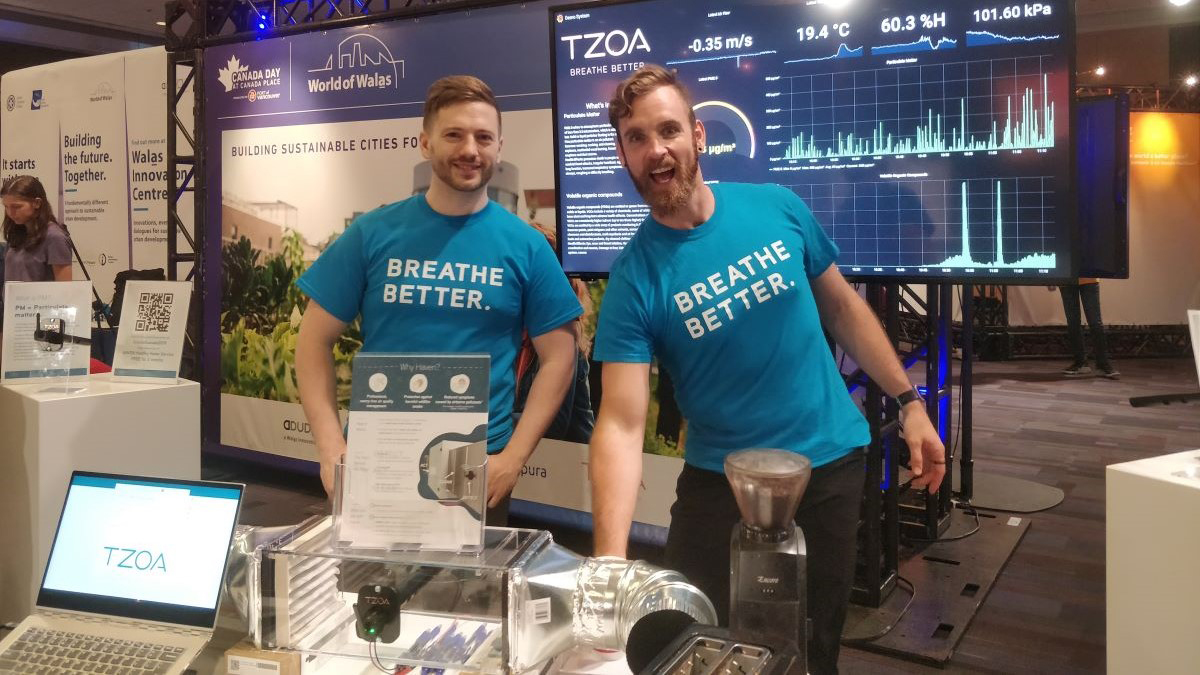 When he looks at the future of humanity's relationship with technology, Reed knows what part he wants to play — "Working with technology to create behavioural change for a better world is what I would like to go after next."