Six SAIT graduates among the Class of 2022 Top 40 Under 40
Photography courtesy of Avenue Magazine photographers Jared Sych and Steve Collins
03 November 2022
Each year, Avenue Magazine reveals its list of forty individuals who have made an impact in their communities, fields, industries and sectors before their 40th birthdays. The Top 40 Under 40 celebrates the motivations, innovations and commitment to change embodied by these young professionals who have achieved significant success early in their careers.
SAIT is honoured to celebrate six incredible graduates who have demonstrated the resilience, determination and future-focus required to motivate change in the city of Calgary. Join us as we toast the following SAIT graduates and members of the Top 40 Under 40 Class of 2022!
Gursh Bal (PELP ' 12, AELP '16) and Kai Fahrion (AELP '15)
Outstanding Young Alumni 2019
Co-CEOs, ZENO Renewables
Bal and Fahrion are long-time friends who co-founded ZENO Renewables in 2015 to take an active part in shaping Calgary's commitment to sustainability.
"To us, 'moving the city forward' is a responsibility that we don't take lightly. Calgary is well on its way to being a global city and we believe that is happening because there are many diverse and impactful businesses doing their part on bringing the future to life today," they share.
"Winning the SAIT Alumni Award and the Top 40 Under 40 award is both humbling and motivating. We are grateful beyond what words can express but also very eager to represent these awards with the esteem they deserve. We are aware that we have a rare opportunity to represent all those who believe in us in the best way possible, and we plan on doing exactly that."
Iman Bukhari (Journalism '10)
CEO, Canadian Cultural Mosaic Foundation
Bukhari has been a tireless advocate for improved race relations in Calgary for years through her volunteer-run organization, the Canadian Cultural Mosaic Foundation. Through education, technology, art and meaningful dialogue, Bukhari and her team work every day to build a better future.
"The Canadian Cultural Mosaic Foundation was founded while I was at SAIT. It started out with a bunch of SAIT students who got together and wanted an equitable society," she shares. "We are now a successful nonprofit disrupting systemic racism in our city, province and country. Our organization consists of Millennials and Gen Z'ers who understand the power of technology and social movements in order to make our society equitable."
Bukhari says the recognition of her work demonstrates the progress the city has made in the area of diversity.
"I see real change. When we started in 2009, this city was very different and now I see a lot more diversity and people of diverse backgrounds getting the opportunities they deserve. The work is still ongoing, but we're seeing a shift!"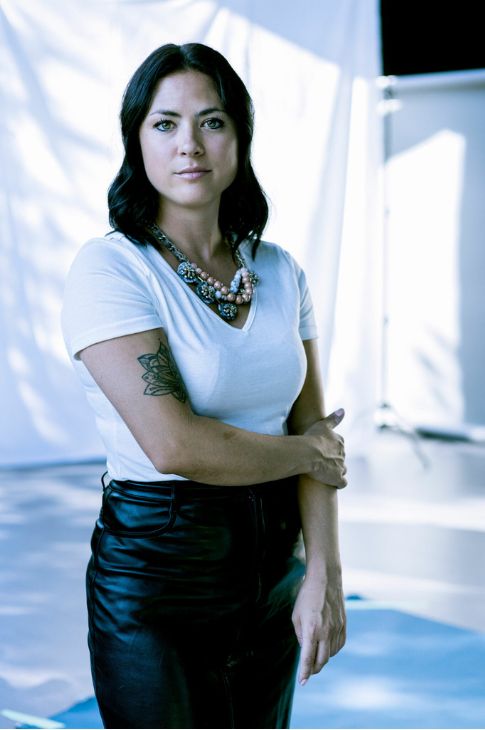 Amber Craig (Journalism '07)
Chief Merchandising Officer, FOUR20
Craig has long had a dream to be on the Top 40 Under 40 list.
"Since I can remember, I've had a goal of being on the Top 40 list. I've always had immense respect for the people on the list every year, knowing that they represent innovation and leadership in this city, and I am really proud to be joining this list," she says.
Craig has pioneered legal cannabis in Alberta through her work at FOUR20, a company that strives to be responsible stewards and ambassadors of cannabis.
Craig is amazed when she reflects on her journey and the process of socially-acceptable cannabis use.
"The fact that cannabis leaders are being recognized is truly amazing to me. Four years ago, pre-legalization, there was still so much stigma around cannabis. I remember before we opened our first stores, how much public consultation and education had to be done just to reassure the public that this was a positive change for their communities. To go from that to being recognized in this list tells you how far this city has come in leading the way for cannabis businesses."
Madeleine MacDonald (Hospitality Management '14, Outstanding Young Alumna 2022)
Instructor, School of Hospitality and Tourism, SAIT

"Since starting in the restaurant industry in Calgary almost two decades ago, so much has changed. Our dining culture has evolved and has been recognized nationally and globally," says MacDonald.
Her career journey has come full-circle as she is now back in the classrooms at SAIT as an instructor where she helps to inspire the next generation of culinary innovators in Calgary.
"Calgary is a dynamic city that is still growing. Creating community and inclusion is incredibly important to me, especially within our hospitality community," she says.
On receiving both the Outstanding Young Alumni Award and Top 40 Under 40, MacDonald says: "I am truly touched to be recognized for both of these awards. It is an incredible accomplishment that only a few people will receive, let alone both. This is definitely a year I will never forget."
JP Pedhirney (Cook '10)
VP Culinary Operations/Corporate Executive Chef, Concorde Entertainment Group
Pedhirney oversees more than a dozen of the city's most cherished restaurants and is helping transform Calgary's vibrant culinary scene. He joined the Concorde Entertainment Group in 2015 has as an executive chef at Bridgette Bar before taking the role of Concorde's top chef in 2020 where he oversees restaurant and menu development for the group's more than 20 locations.