New committee works to empower and inspire
Matthew Bardsley
28 November 2022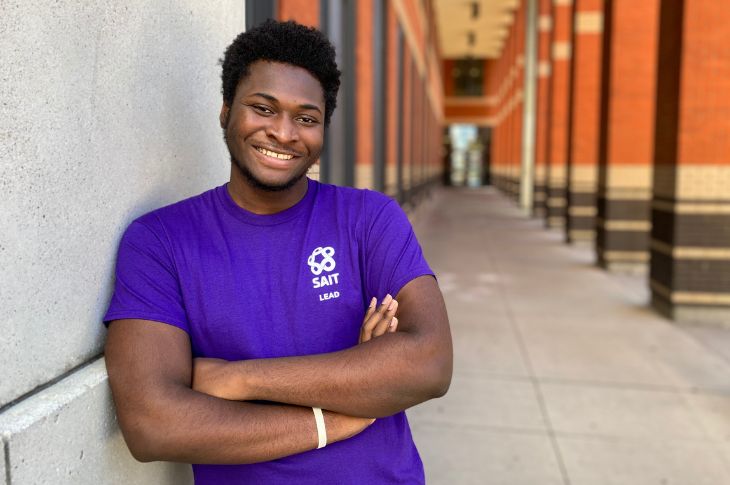 For David "Chimdi" Ilonze, his SAIT experience is defined by his efforts to make the most of what's going on around him. The second-year Business Administration student, originally from Nigeria, prides himself on his deep awareness of — and connection to — the diverse communities that come together to form the fabric of SAIT.
This year, Ilonze took on a student leadership role at the newly launched Black Empowerment and Excellence at SAIT (BEES) committee — an initiative aimed at supporting and enhancing the SAIT experience for the institution's Black community.
"It was quite a new committee, and the role of student leader wasn't very defined yet. It's exciting to me because I can have a lot of freedom to make it grow in a way that is informed by my own, unique experiences," says Ilonze.
Made up of a dynamic mix of students, staff and allies, the group is working to drive increased community and resource engagement throughout SAIT's Black community. With mentorship networks and tailored educational and career development offerings and connections, the committee aims to serve as an access point for critical opportunities.
When asked what he'd like to achieve in his new role, Ilonze was clear in his mission.
"When students need help, they don't talk to the school – they prefer to talk to their peers. I want to make sure that SAIT's Black community has an awareness of all the resources available to them, and that they understand where to go and who to speak with to connect to what they need in order to advance."
Noticing that the Black community at SAIT — made up of people from all over the world — wasn't as connected as it could be, Ilonze is working to create the conditions for stronger relationships. Driven by a prevailing belief that everyone is welcome — informed by his own experience of African culture — Ilonze has set out to lead this change.
"I feel like this position is in some ways the key because the experiences of someone who is actually living the reality you are trying to change and improve are key to actually making a change," says Ilonze.
In making a change that lasts longer than his own time at SAIT, Ilonze is striving to build an engaged and well-resourced network of Black students and staff – one that is supportive for those who follow in his footsteps.
"If you get engaged with the campus, you learn that there is so much more here. So many resources, people to meet, ways to really make the most of your time while at SAIT," says Ilonze.
"When we graduate, our opportunities will be global, and the SAIT community today gives us a taste of that global community. I want to be a part of helping to build — and connect — that community."
---
Black Empowerment and Excellence at SAIT
The Black Empowerment and Excellence at SAIT (BEES) committee is a voluntary group of Black students, employees and allies who work to support Black people on campus and combat anti-Black racism at SAIT.
Learn more