Madeleine MacDonald — 2022 Outstanding Young Alumna
Text by Michelle Woodard | Photos by Y KATE KÜNZ
27 September 2022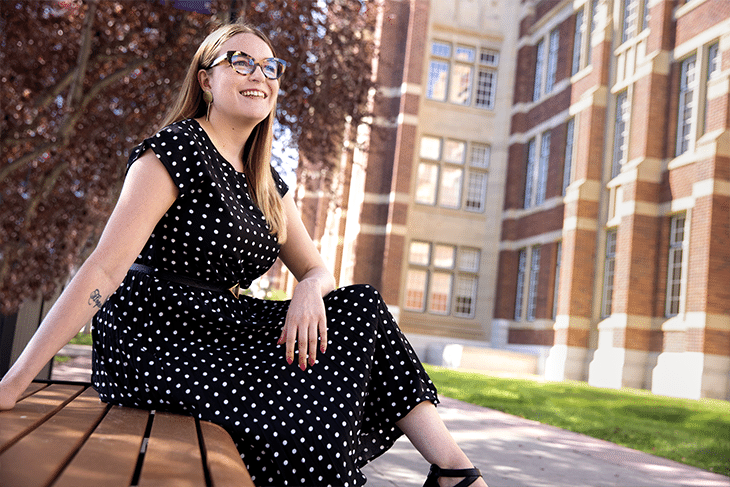 ---
It's all about balance.
Madeleine MacDonald won't hazard a guess at how many cocktails she created while working as beverage director for leading restaurants over the past nine years. But if her 50 notebooks of ideas and inspiration are any indication, it's a lot. And the fact she's participated in at least the same number of competitions — winning many of them — should tell you she's pretty good at it. Today she brings those skills to every SAIT class she teaches.
Your big break?
I interned at Model Milk and got to be a "baby bartender" in a brand new venue that was pushing the boundaries in terms of cocktails and food. That's where cocktails became my passion. I loved that it allowed me to be creative and combined my interest in cooking with my love of people.
The story behind your favourite cocktail?
Inspiration can come from anywhere – an ingredient or a dish your grandmother made – but it was a song in this case. One of our regular customers at Model Milk was obsessed with Goodbye Horses by Q Lazzarus and played it all the time. The cocktail this inspired me to create was my first to make it onto the menu and is still near and dear to my heart — Model Milk even brought it back for their 10th anniversary.
Your inspiration?
When you've been in an industry for a long time, it's easy to get jaded and grouchy, but my students keep me inspired – they have such joy, interest and excitement. I teach students from all over the world with different backgrounds, ethnicities and cultures, and that creates a dynamic classroom. We share our stories – and favourite beverage products – and learn from each other's experiences and mistakes.  
On finding balance
Cocktails are all about balance — acidity, sweetness and bitterness — and about allowing each ingredient to shine. As much as restaurants compete with each other, we're also connected. We take care of each other and balance each other out. But we can still do a lot to rethink aspects of our industry, to make it more equitable and to provide a better work/life balance. I've been given so many opportunities that I need to give back. It's why I've loved helping to bring Speed Rack, a global bartending competition, to Alberta and working with the Bartenders Benevolent Fund, helping people in our industry get the funding needed to live through the pandemic and other emergencies.
Opportunity Makers
If a single trait connects all of SAIT's 2023 Alumni Awards recipients, it's their ability to make the most of an opportunity. They're turning tragedy into community, using AI to help protect the planet and building spaces that bring people together. This year, two new awards — the International Impact Alumni Award and the Clarence Hollingworth Alumni Employee Award of Excellence — are being presented to two SAIT graduates seizing opportunities to make a difference from across the Atlantic and right here on campus.
Meet our recipients