Kyle Bukauskas — 2022 Outstanding Young Alumnus
Text by Michelle Woodward | Photo by Kate KÜNZ
27 September 2022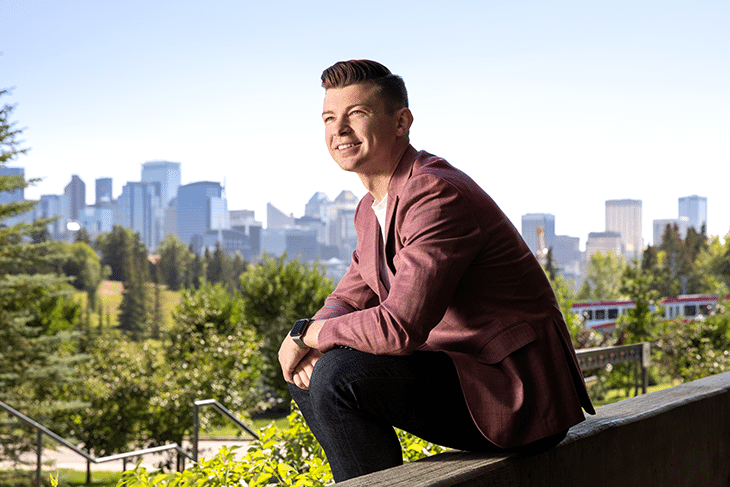 ---
Dream big, kids. It's a cool feeling.
Growing up, before-school breakfasts in Kyle Bukauskas's house always included watching the sports highlights. Fast-forward fewer years than you might think, and Bukauskas found himself living the dream. At 19 years old, he was just finishing at SAIT when he was invited to interview for a job at Sportsnet after a season of volunteering as the play-by-play commentator for the Trojans.
"I know how lucky I am, and I'm grateful for it," says Bukauskas. "When I think about the people I get to work with every week, I have to pinch myself."
Most memorable moment?
The 2018 Stanley Cup final in Las Vegas. I was glued to the TV during the playoffs for so many years, so being there on the ice for my first final was surreal. Interviewing the players and seeing all the joy and emotion that come from them realizing their childhood dreams on the ice was – and still is – the best part of my job.
Favourite question to ask?
I constantly wrestle with this. You don't want to ask the obvious question, but sometimes it's the right one. When you see a player's eyes glistening and all of their emotions right there, asking them what they're thinking allows them to let it all out.
Is storytelling important in sports?
It's easy to get caught up in how much money a player makes or how many points they're putting up and to forget that they're real people. I can't break down a hockey game at the level an analyst does, but I can dig into the human side – the stories, the anecdotes. And I hope that in those 10-second hits, I can give viewers something that complements the broadcast and makes that night more memorable. 
Luck or hard work?
Both. During my first week at SAIT, I was standing in the hall with some classmates, talking about what we wanted to do. I had the audacity to say I wanted to anchor one of the sports networks. That was the dream. But now that I'm here, I don't feel like I've arrived. I'm still learning a ton and have a lot of room to grow. And I don't forget that I'm where I am today because people took a chance on me. I appreciate how willing people were to help me, and I need to do the same.
The power of story
This year's SAIT Alumni Awards recipients are all well versed in the power of story. Whether they're breaking them from the news anchor desk, uncovering them rinkside at an NHL game, spinning them behind a trendy cocktail bar or using them to connect with students in a classroom, they know exactly how sharing stories shapes, challenges and connects us.
Read more