Beyond the halls — A look at the unseen spaces of Heritage Hall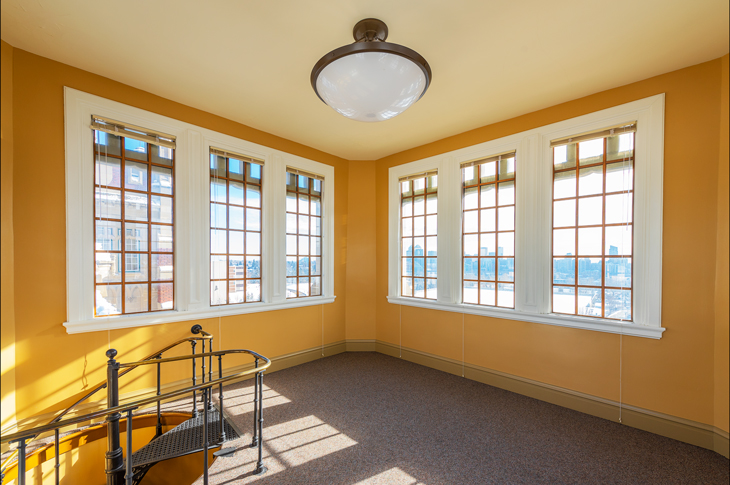 Beyond their mix of classrooms, meeting rooms and offices, Heritage Hall and its elder sibling, the Eugene Coste building, have places the public can't access. But those areas still have stories to tell. So we invited award-winning Calgary photographer, SAIT instructor and long-time LINK contributor George Webber to roam these historic buildings from basement depths to tower top, capturing behind-the-scenes glimpses most of us will never see in person.  
For 100 years, Calgarians have looked up at Heritage Hall's iconic towers. During renovations in 2001, their second- and third-floor rooms (part of the original Library for the Provincial Institute of Technology and ART (PITA), as SAIT was originally known) were incorporated into busy administrative offices. The above photo, taken from the west tower's top floor on Feb. 16, 2022, gives us a rare look out at the city below.
"The library ... wasn't a very big library, but it had a spiral staircase that went up into the tower at the very top of Heritage Hall. And it seems to me, there was a very small room up there and it did have a chair and a little table."

Murray Cameron, University Demonstration School Student, 1953 – 1955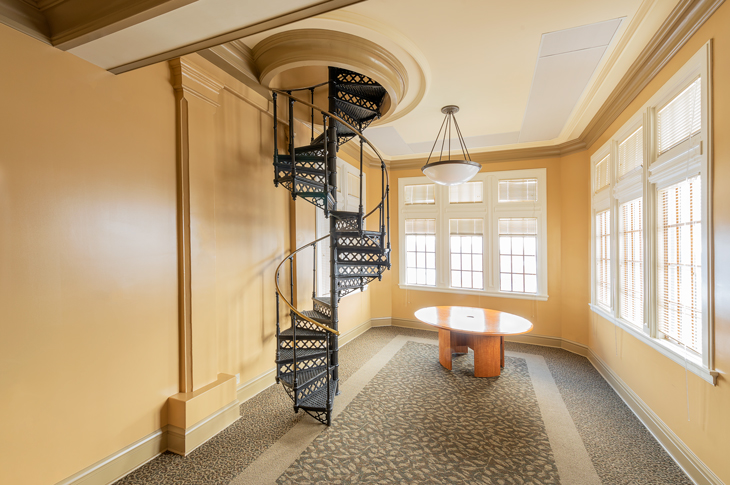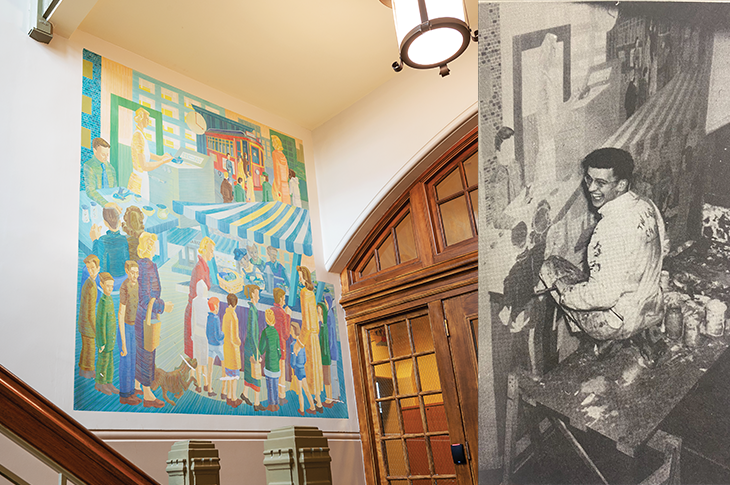 Gordon Johnston (Art '54) "Shopping", 1954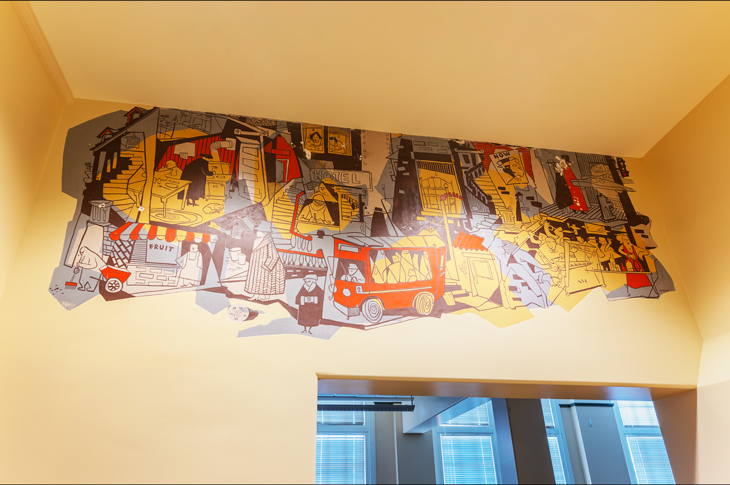 Lloyd Dowler (Art '54), "City", 1954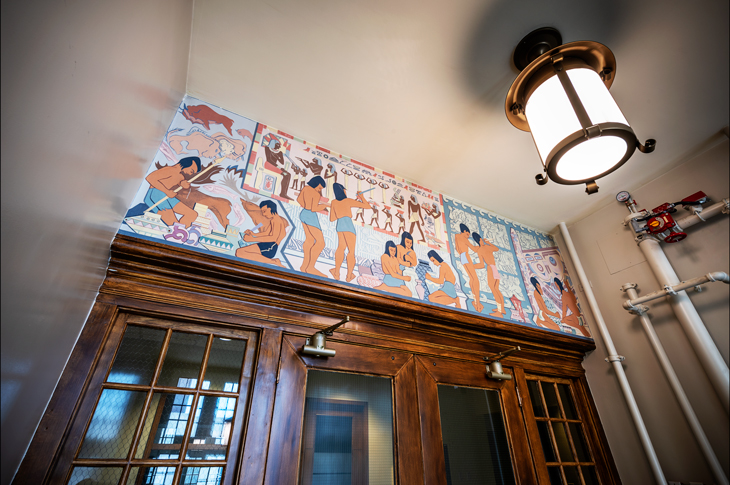 Patricia Stopford (Art '51), "Untitled", 1951
One of Heritage Hall's most innovative features is also its least known attribute. Between 1949 and 1955, twelve murals were painted on its walls by students in PITA's Art Department — a legacy of the department's leadership in developing Calgary's arts community. Because the three murals shown here are located in spaces with restricted access, they are even more rarely seen.
"Up on the scaffolds this year went ... students of the Art Department, painting murals as part of their regular daytime course ... Mr. Gordon Johnston executed his idea of Shopping, while over the doorway of the Home Economics office Mr. Lloyd Dowler painted his City, built with the abstract patterns and the colours which he feels best portray his subject ... While the appearance of the Institute is brightened by the development of its mural program, much encouragement and experience is given the young people who have undertaken the work. May they find a rewarding place in this rapidly developing field of art."
J. S. Perrott, Instructor, Art Department, 1953/1954 Yearbook
Before there was Heritage Hall, there was the Eugene Coste Building. Originally known as the Power House, it was built in 1920 to provide heat and electricity to a campus carefully planned by Alberta's provincial architect, Richard P. Blakey, as three buildings plus plenty of prairie for future expansion.
Blakey designed the plant's tapestry brick exterior to complement his other two PITA buildings: the "A" Block (opened in 1922, it housed lecture rooms, offices and training workshops; it was demolished in 1999 and replaced by today's Stan Grad Centre) and the Main Building (today's Heritage Hall). Originally 50 feet wide and 100 feet deep, the Power House was divided into two distinct spaces: an engine room on the east side and a boiler room on the west side. Renamed the Eugene Coste Building in 1985, it has been expanded over the years and continues to operate around the clock.
 In 2012, the building was extensively renovated with an eye to preserving historic elements such as this sturdy metal door in what was originally the boiler room. Behind the door was once a coal storage shaft with a crane.The crane lifted coal to what PITA's 1922 Academic Calendar described as "the latest type of coal and ash-conveying machinery," a remnant of which is seen in the photo to the right It helped move coal to the overhead bunkers used to fuel three 250-horsepower high-pressure water tube boilers.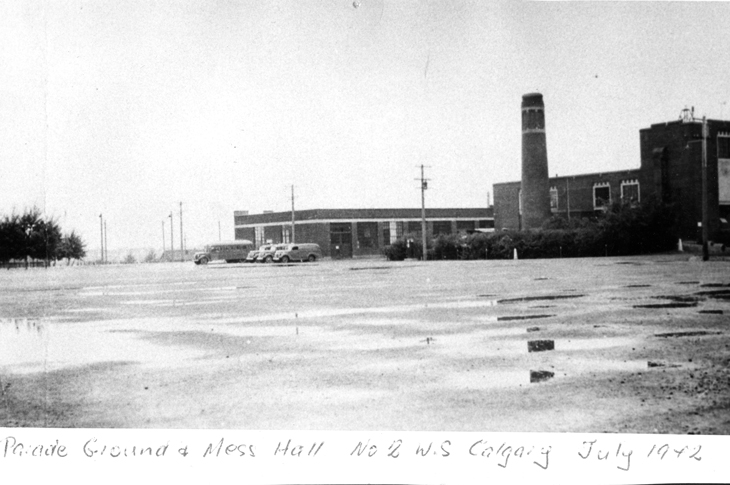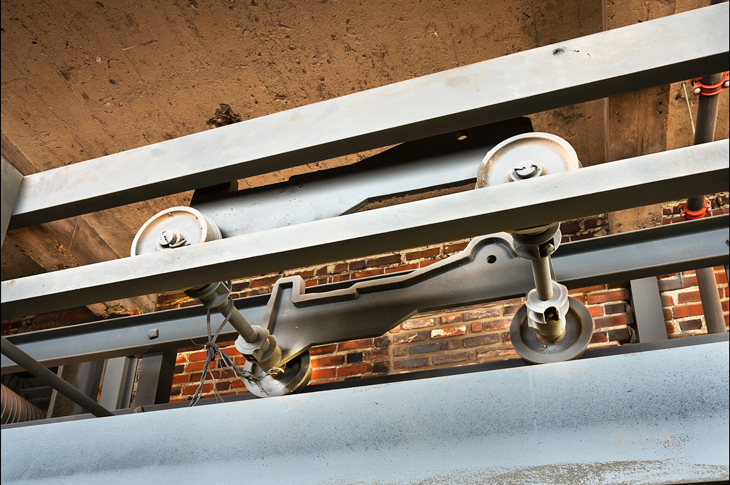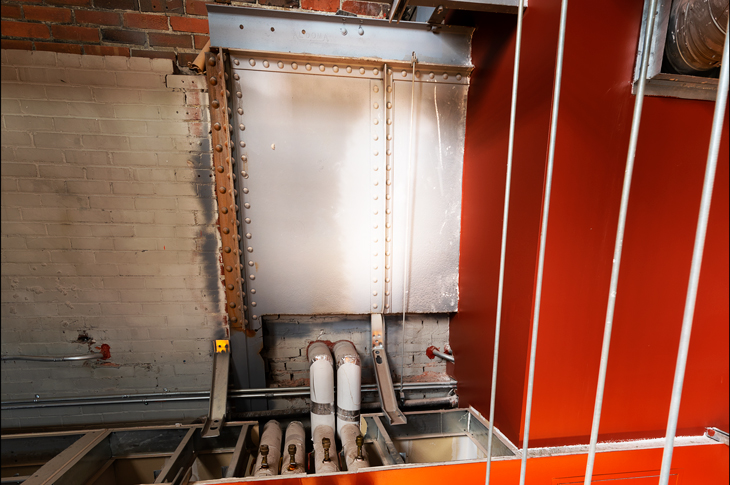 Tunnels have long been a staple of SAIT urban legend — but a portion of a century-old tunnel still exists on campus. It once led from the basement of the Power House — equipped with pumping machinery for the water supply and heating system — first to the "A" Block and then to the Main Building. It served as a vital conduit for utilities such as electricity, water, gas and steam.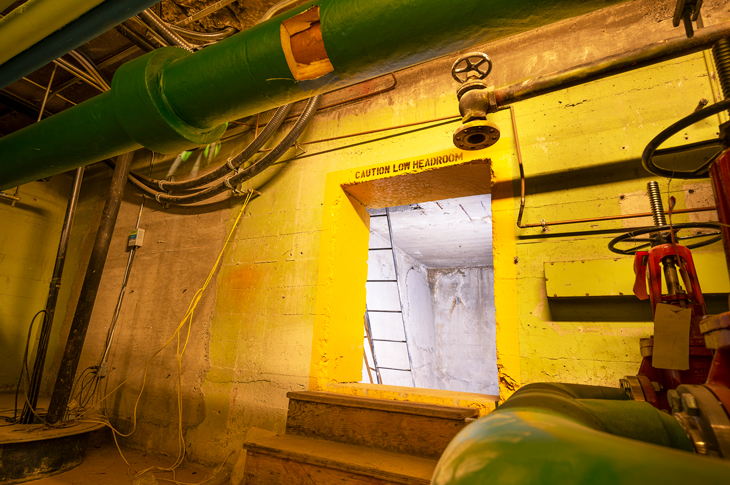 Today, digital energy solutions such as automation and the modernization of SAIT's central cooling and heating plant are all part of a long-term energy strategy to optimize utility usage on campus. The tunnel has long since been sealed — but its entrance remains a testament to the importance of this unassuming building in day-to-day campus life.
The photo below faces south towards Stan Grad Centre with Heritage Hall beyond. On the surface, it's simply a utilitarian corridor — but a deeper look shows how SAIT has evolved, and how it has stayed the same.
The brick wall is the west wall of the original Power House — the oldest building on campus — and the steel wall is the newest building on campus: the Cenovus Energy Centre, opened in 2014.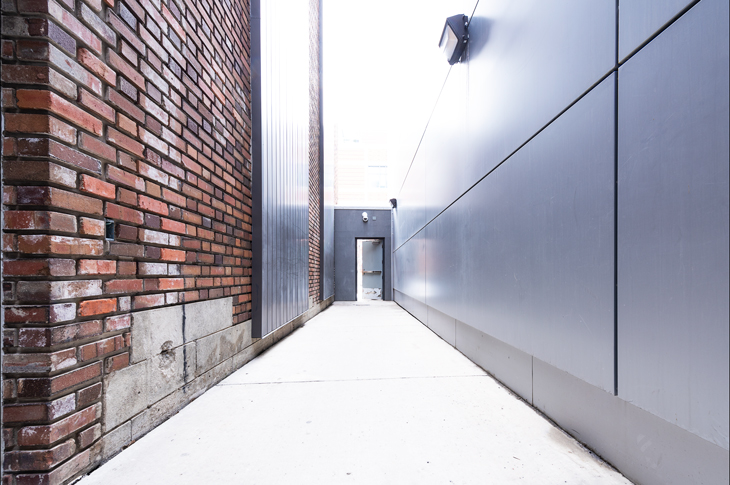 According to PITA's 1922 Academic Calendar, the Power House was "designed with a view to research work on fuels, for experimental work, and for instruction in power­plant engineering." With its innovative labs, the Cenovus Energy Centre is used by the MacPhail School of Energy to train power engineering technology students in controlling large, complex power and process systems, and in performing production work in the operation and development of large-scale energy projects.
Into the belly of Heritage Hall
When LINK magazine editor Nancy Cope asked George Webber if he would be interested in photographing the spaces in Heritage Hall off-limits to the public, his response was an immediate, "YES!"
See Webber in action as his photo assistant Dana Prediger and Cope capture their own shots of him behind the camera. 
View this post on Instagram