From avatars to influencers
Julie Sengl
18 January 2022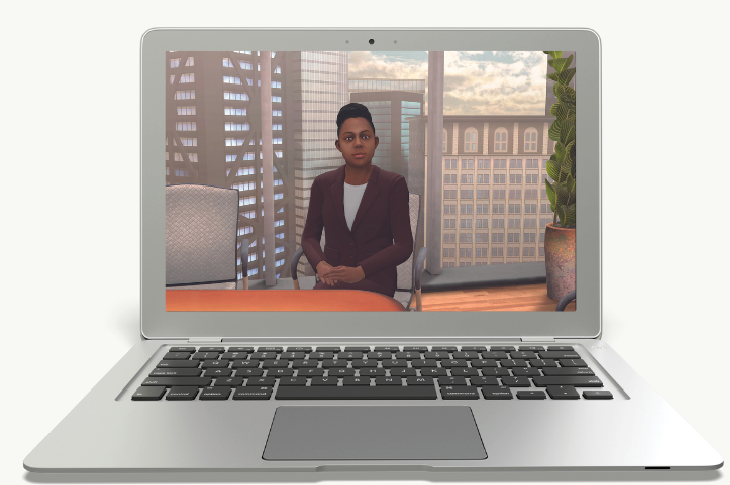 ---
As the School for Advanced Digital Technology (SADT) marks its first anniversary, it is inspiring innovative instructors and educators across SAIT to transform the way students — and future students — are learning.
---
Artificial intelligence (AI) is retooling the world of accounting. Many of the industry's systems are grounded in rules, and AI thrives in rule-based environments. As advanced software improvements eliminate a significant portion of an accountant's traditional duties — many of which can be readily offshored to countries with nominal labour costs — successful accountants will move into more executive, front-end, client-facing roles.
"If you want to be an accountant, you're going to have to be more proficient on the human side," says Steve Janz, an instructor in the School of Business. In addition to expertise in the best software programs out there, accountants will need to be effective communicators and confident influencers. But how do we teach these softer, people-centric skills to an accounting class?
Research led Janz to a partnership with Mursion, a company that uses virtual reality simulations to "improve human interactions" and "cultivate empathy." Participants interact one-on-one with Mursion avatars in a live, 2D virtual reality experience.
"I saw the training Mursion provided and thought it the perfect environment for my students to improve their persuasion skills and increase self-efficacy," says Janz. It creates a safe and relatable space, especially for a generation of gamers.
With support from the Canadian Academic Accounting Association and CPA Education Foundation (Alberta), Janz piloted a Mursion virtual reality learning experience with a select group of student volunteers. Each student had 10 minutes to persuade a client avatar to consider switching from their existing (and firmly entrenched) accounting software to the real-world suite of programs called Xero, which Janz's students use in their accounting courses. (Persuading organizations to switch from their existing accounting software is very challenging). Following feedback from a peer and the Mursion host avatar, students repeat the exercise one more time to incorporate their learnings.
"Imagine a world where you were given a second chance," says Janz. A do-over. "That's what this gives you."
Generally speaking, students are comfortable talking to the avatars. If they say the wrong thing or inadvertently make a mistake, it doesn't have the same impact that it might in a real-world scenario. The avatars don't express hurt or judgement verbally or through body language so students don't have to feel awkward, inappropriate or apologetic. And avatars don't carry a grudge so when the student returns for their second go at it, the avatar appears fresh, without any negative bias. This is experiential learning without the potentially detrimental consequences. It is engineered to be safe, positive and constructive.
Initial results from the pilot were so promising that Janz will be continuing his research (now part of his PhD), incorporating the training into his Advanced Information Systems course curriculum over the next three terms.
Make your career count!
Stand out in the job market with a wealth of business knowledge and skills with an industry-recognized bachelor's degree. Learn a better way to start or advance your career today.
---
This is an extended version of the section "From Avatars to Influencers — The School of Business," part of the Innovation story "Smartening Up" from the print edition of the Fall 2021 issue of LINK.