On the Job: rooted in building a family business
Written by Eric Rosenbaum | Photography by Brian Buchsdruecker, Bookstrucker Photography
25 November 2021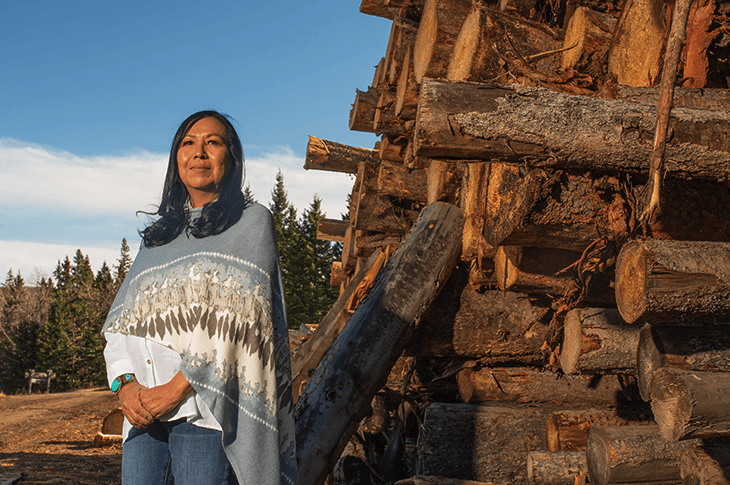 From barns and ranch houses across southern Alberta to family campfires in Kananaskis Country, products produced by Brooks Sawmill near Cochrane are embedded in almost 100 years of western Canadian history — and it's also worth noting that lumber from the mill play a supporting role in the movies with at least two Oscar-winning Hollywood movies.
---
Marcella Brooks (BA '12) co-owns and operates the mill with her husband David. His family has been harvesting, cutting, and selling pine and spruce and other varieties of wood in the area since 1923. Her family roots go back even further — Marcella grew up on Îyâxe Mâkochî, or Stoney Nakoda Nations. 
As Brooks told LINK writer Eric Rosenbaum, she was a high school rodeo champion who attended college in the U.S. for one year on a rodeo scholarship where she also picked up some business skills. She first met David at a local rodeo and found they both have strong ties to southern Alberta. When David's parents retired in 2008, he and Marcella took over the business and brought the historic mill into the 21 st century.
How has the clientele changed over the history of the mill?
In recent years the movie industry has become a big client. I frequently take calls from companies like Paramount, Disney, the BBC and many other production companies in Hollywood. We work with set designers and supply them with the lumber they need to build sets such as log cabins and other buildings that depict the Old West. We supplied lumber to Oscar winners such as The Revenant and Unforgiven. 
Selling firewood is also relatively new to the mill. In the early 2000s, I started it as a side business, a way of making extra money for our family. We started cutting up scrap wood from the tops of trees and dead logs and bundled it as firewood. Our two children were still young at the time. We'd go for car rides on weekends to drop off the wood to customers.
Since then, it has taken off and we've picked up bigger customers like gas stations and grocery store chains. We eventually landed the contract to supply Kananaskis Provincial Park with firewood. We eventually invested in a specialized piece of equipment called a Cord King. It slices through logs and produces large quantities of firewood in a matter of minutes. Cutting, bundling and selling firewood has become almost half of our business.
There is one other important feature of our mill that has become increasingly important. I am very proud of our green policy; almost nothing goes to waste. We don't produce as much sawdust as we used to. What we have, we sell to agriculture where it's used for bedding for animals and in stables or mixed with manure. And, as I mentioned, some of the firewood used to end up as scrap.  
However, when all is said and done, many of our customers have remained the same. Ranchers and farmers use our lumber in their buildings, and it goes to the mining and energy industry and for home construction.  
What's your typical day like?
I run the office while David runs the mill. I spend a major part of my day phoning and emailing people who buy our lumber or sell us their trees. We buy trees from local landowners, mill it, and sell the lumber to customers. This involves a lot of coordination and communication.
Landowners want to cut down trees for a variety of reasons. My husband and I visit the property to see what trees need to be harvested. Our industry is highly regulated. We can't just go in and start clearing trees, and of course, we wouldn't do that anyway. I then bring in environmental engineers who determine what we can harvest according to our industry's best practices and government rules. From there, I connect with logging companies to coordinate the harvest. I also spend a lot of time communicating with buyers to make sure they get the lumber they need.
Can you share what it was like to attend SAIT as a mature student? 
I was in my mid-40s and I thrived on the experience. I enjoyed learning about the new technology and working with younger international classmates on projects. They helped me learn about the research and I helped them with the writing. As an Indigenous person, I spent time at Chinook Lodge Resource Centre where I consulted with the Elders and some of the career counsellors. It was also a good place to take a break from my busy school schedule.           
How has your SAIT education factored into your role at the sawmill?
When my in-laws retired in 2008, my husband and I became involved in the day-to-day mill operations. When they ran the business, it was mostly phone calls, handshakes, and paper files. As I became more involved in running the office, I realized we needed to bring the business into the digital world. I had some commerce background but knew I needed to learn more — that's why I enrolled in the business program at SAIT.
My education helped me transition a lot of our business practices to digital. During one of my courses, I learned everything about planning a marketing website and created our first one — I strategized, organized, and wrote all the content. I also worked on my accounting skills and mastered the latest software to take on day-to-day bookkeeping.
Since my time at SAIT, I've introduced a point of sale (POS) system, making it easy for customers to buy right from the lumber yard. 
I've gained a wide range of skills from my program. My SAIT education truly has been integral to my role at the mill. I use it every day.
Behind the scenes
Marcella Brooks takes LINK behind the scenes of the Brooks Sawmill to get a glimpse of the day-to-day operations of a long-rooted family business.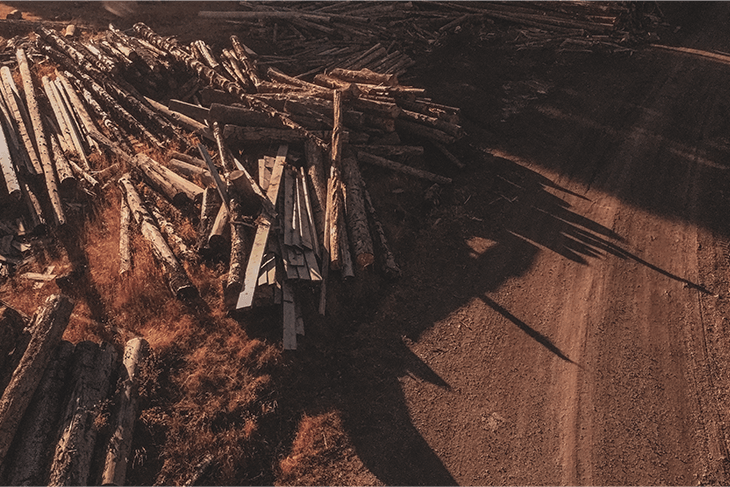 Drone-captured aerial view of the Brooks Sawmill.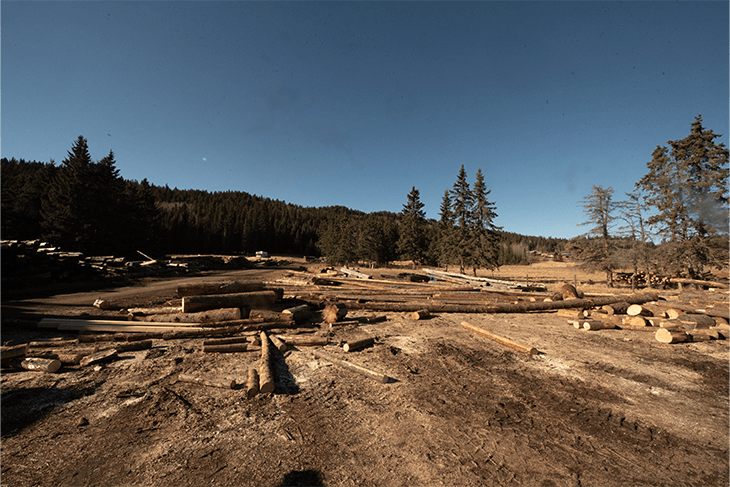 Marcella Brooks uses the ATV to drive to different locations on-site to complete purchase orders with a portable POS system.
Marcella Brooks driving an ATV between the office and doing a purchase order.
Marcella Brooks inside doing administrative work and processing purchase orders.
This story is an extended version of the original print version in the FALL 2021 issue of LINK.