SAIT advances energy education with digital learning tools
Julie Sengl | Pablo Poujol
19 November 2021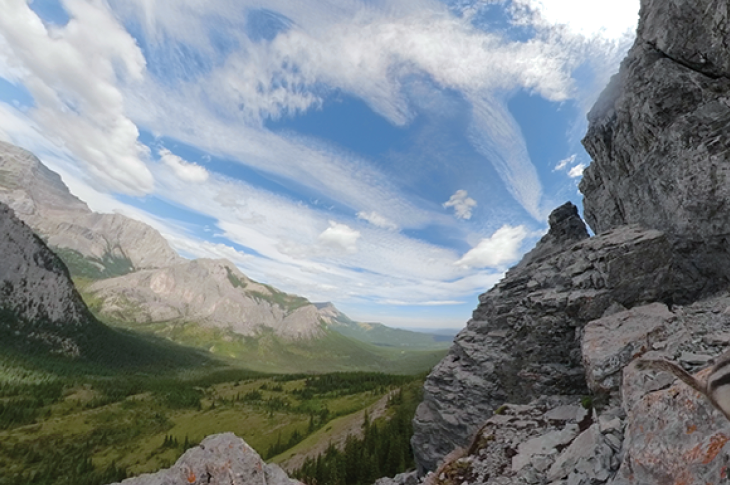 ---
Everything in an ecosystem is connected. Change one thing, or introduce something new, and there's an inevitable ripple effect.
---
As the Chair of Sustainability with the MacPhail School of Energy, Pablo Pina Poujol (Pina) came across the Alberta Tomorrow simulator and "got very interested." This free, public-facing interactive online educational tool linking education, youth, the environment and technology would be an ideal platform for a project Pina's team was working on: a 360-degree virtual reality tour of the entire Bow River Basin.
"I approached the Alberta Tomorrow Foundation for an opportunity to demonstrate how meaningful and engaging we could be by developing these materials," says Pina. "We're now in partnership."
The 360 VR tour is being developed in-house using technology that's readily available in the School of Energy's Virtual Reality Lab, where satellite imagery, simulation technology, 360 virtual reality, a movie-quality soundscape and embedded "hotspots" or focused learning tabs all come together to provide an immersive educational experience.
As SAIT's School of Advanced Digital Technology marks its first anniversary, it is inspiring Pina as well as instructors and educators across campus to optimize this kind of available technology to augment their individual lesson plans, the potential applications to multiple disciplines are expected to grow. Ultimately this could enhance instructional options in some way in just about all of SAIT's individual schools. The School of Construction is already incorporating opportunities to collaborate.
Collaboration and added in-house expertise bodes well for everyone. "It's a great way to develop in-house training, to empower my faculty and to put the Virtual Reality Lab to good use," says Pina. "I'm working to be a good steward of the resources that SAIT's donors are helping us build."
The immediate benefits to student engagement and learning outcomes are pretty clear. "The students have a curriculum or material that is much more engaging, and the learning is immersive," says Pina. "It's not easy to understand what you don't see and it's not easy to see all areas of the Bow River Basin when you can't get there."
"Technology is allowing us to see and experience things not otherwise possible."
At the same time, these kinds of technologies will also benefit industry. "Our students will show up on the job familiar with these technologies and their potential applications."
Advanced digital technology has never been so user-friendly. "This is all pretty accessible and very low risk (and by low-risk I mean relatively affordable). I want both industry and my team to see what we're capable of doing together. Of course, it takes work, but we can do this."
By "we" he means any of us. Technology is at the point where just about anyone with bright new ideas of how to apply it can do so themselves.
---
This is an extended version of the section "Powering up — MacPhail School of Energy," part of the Innovation story "Smartening Up" from the print edition of the Fall 2021 issue of LINK.