Setting youth up for success with a digital mindset
Julie Sengl
22 November 2021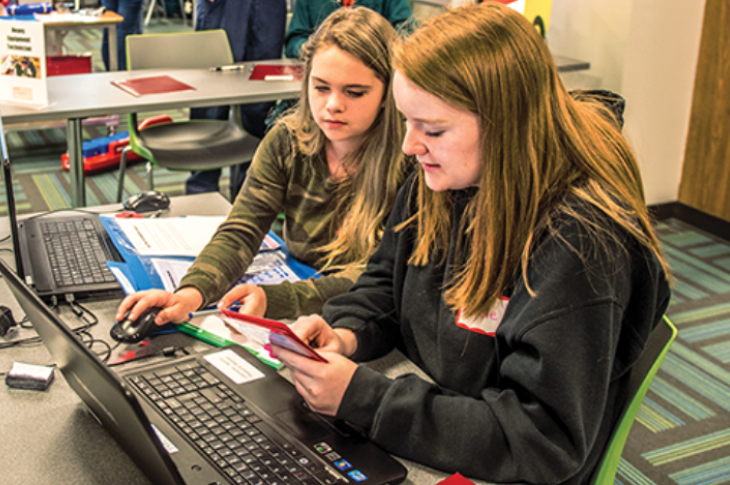 ---
As the School for Advanced Digital Technology (SADT) marks its first anniversary, it is inspiring innovative instructors and educators across SAIT to transform the way students — and future students — are learning.
---
Artificial intelligence. Machine learning. The Internet of Things. Virtual, mixed, augmented and extended realities. There's a tangle of terminology, concepts and nuances that (along with qualities like empathy and cooperation) up-and-coming digital citizens need to understand, experience and navigate to be successful human beings. Curious, connected youth are apt to do well in a digitized future. Those without access or exposure to emerging technologies will be at a disadvantage.
With support from SADT, the Strategic Youth Initiatives team in SAIT's Learner and Academic Services is working with junior high and high school boards, teachers and students to understand where there may be gaps and help build awareness, a digital mindset and related skillsets.
"The biggest challenge with technology is where to start," says Digital Youth Program Specialist Abdullah Rafih. There are so many possibilities. That's just it.
"Concepts like digital intelligence and digital literacy mean a different thing to every audience that we're talking to," says Rafih. "One of the major challenges we're tackling now — and it's something we're looking at not just for youth but with industry as a whole — is how do we make sure we're teaching the fundamentals? How do we create this consistent vocabulary?"
Of course, the real challenge here goes way beyond words.
"When we look at digital intelligence, we're not just focusing on technical skills," says Rafih. "It's more of a holistic level of learning. What does it mean to be digital? What does it mean to have a balanced use of technology? What is the ethical side? How do we protect our privacy? How do we use this as humans?"
The team is piloting a series of facilitated 90-minute workshops designed for students in Grades 7 to 10 called Art of the Possible. Online modules provide a high-level introduction to concepts like digital intelligence and digital citizenship, virtual reality, artificial intelligence and machine learning. Online browser-based software gives students the opportunity to engage in a simulated machine learning exercise or have a virtual reality-like experience.
"Sometimes it can be quite difficult to convey these abstract ideas to students through the online medium," says Rafih. "There is a component where we need technology in hands." The Digital Next Studio will be the hub for hands-on in SADT's downtown location in the Odd Fellows building. It will remove barriers for students that might not have access to some of the more expensive technologies in their schools.
"Once students are able to come into the physical space, to engage…it's an opportunity to see what their future looks like."
As key influencers, teachers are helping shape that future.
This is also about empowering teachers. "We can teach our students and also help interested teachers with ideas on where to start and what or how to teach content related to these areas of emerging technology."
---
This is an extended version of the section "Digital Youth: Art of the Possible — Learner and Academic Services," part of the Innovation story "Smartening Up" from the print edition of the Fall 2021 issue of LINK.