Mike Lamacchia — 2021 Distinguished Alumni
Written by Michelle Woodard | Photography by HardeLee Photography
21 October 2021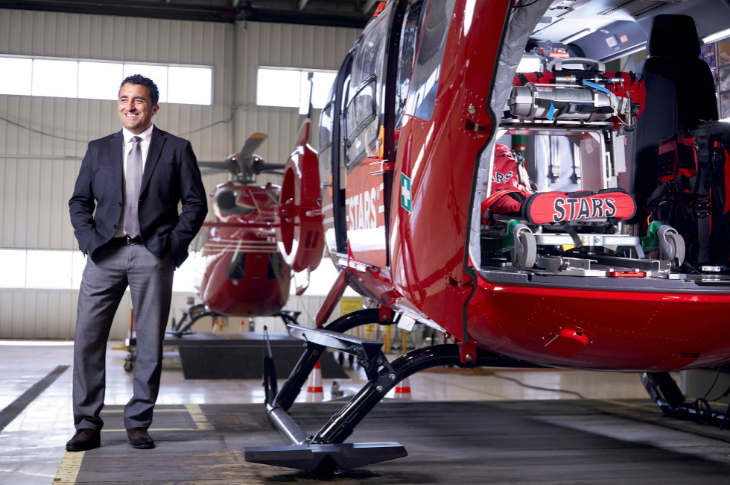 Mike Lamacchia (EMT-P '90, EMT-A '88) was working with the Cochrane Fire Department in 1990 when he and his partner responded to a single-vehicle-roll-over crash near McLean Creek. During the 40-minute drive to the scene, Lamacchia decided to call in STARS Air Ambulance. The helicopter landed just as they pulled their patient out of the ditch, and once everyone was safely onboard Lamacchia watched STARS take off. Later, he heard that the patient's heart had stopped not long after arriving at the Foothills Hospital.
They were able to save her life, but I often think about that day and if we hadn't made that call when we did. I know for a fact that the patient wouldn't have survived.
Caring deeply both for patients and the quality of care they receive are hallmarks of Lamacchia's almost 30 years with STARS. He flew his first mission as a STARS paramedic in 1992 and joined the organization full time in 1999 to launch North America's first mobile patient simulation program.
We didn't really know much about simulation at the time, but we did know that healthcare professionals in rural communities couldn't come to the city to train. Simulation was how we could help them prepare for some of the most complex and challenging emergency situations they would ever face.
So Lamacchia customized a motorhome to replicate an emergency room, equipped it with a state-of-the-art simulation mannequin and hit the road, leading a team that brought critical hands-on mobile skills training to all corners of the province. Twenty-two years later, medicine and technology have evolved, but the overall goal is the same.
Simulation is all about improving clinical skills – allowing our teams to safely practice and coming together to make sure that every single thing we do and every decision we make is for and about our patients.
As Chief Operating Officer – Provincial Operations, Lamacchia now spends his days overseeing the day-to-day operations of STARS across Alberta, Saskatchewan and Manitoba. He no longer flies missions, but his deep desire to help people – the motivation behind his decision to become a paramedic in the first place – is as strong as ever.
Anytime I feel down or I'm having a bad day, I listen to a patient's story. Hearing someone say that you've helped save their life is all you really ever need to keep going.
Opportunity Makers
If a single trait connects all of SAIT's 2023 Alumni Awards recipients, it's their ability to make the most of an opportunity. They're turning tragedy into community, using AI to help protect the planet and building spaces that bring people together. This year, two new awards — the International Impact Alumni Award and the Clarence Hollingworth Alumni Employee Award of Excellence — are being presented to two SAIT graduates seizing opportunities to make a difference from across the Atlantic and right here on campus.
Meet our recipients