Doug Braden — 2021 Outstanding Young Alumni
Written by Michelle Woodard | Photography by Jessica Braun
28 October 2021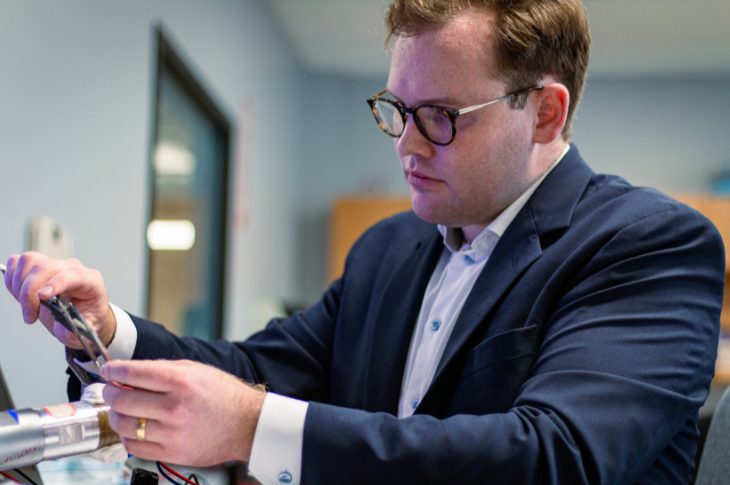 A few short months after 3D printing a plastic face shield for the very first time, Doug Braden (MET '11) stood watching a truckload of Canadian Shields drive away, completing the Government of Canada's order of 10 million units.
He might have been thinking about the dozens of prototypes it took to get to that point, the many people who came together to design and manufacture those shields, or even the prospect of finally getting a good night's sleep – but he wasn't. Braden's mind was on the faces those shields were intended to protect.
At the same time he was pivoting from Chief Technology Officer of educational technology startup InkSmith to unintentional personal protective equipment (PPE) manufacturer, Braden was supporting his family through its own health crisis. His brother, who has been in and out of hospital for the past 20 years, was awaiting a kidney transplant from their sister.
"My brother has been through the wringer, and being able to offer something to the healthcare workers who have been so important to us – including the nurses on the floor where he was receiving care – felt really good," says Braden, the emotion breaking through in his voice.
That emotion, paired with Braden's compassion, engineering skills, design thinking and ability to learn on the fly, is a powerful combination – one that helped InkSmith completely reimagine and retool its operations in a matter of hours and days.
"If you had told me two years ago that I was going to build a machine vision system that automatically boxes, packs and seals PPE, I never would have believed you," says Braden. "But by staying focused on the problem rather than the solution, understanding who the end-user was, what they needed and how we could help – and literally not sleeping until we found the right solution – we were able to make it happen."
Braden may be sleeping more these days, but he isn't finished solving problems. The pandemic, he says, has shone the light on the need to secure a domestic PPE supply chain and the potential to bring manufacturing back to Canada.
"The future is a strange place, but one with so much promise," he says. "Once you've proven that machine vision and automated processes can work in applications that have a very tiny unit value – like a face shield – there is so much potential. And I'm excited to be part of that."
Opportunity Makers
If a single trait connects all of SAIT's 2023 Alumni Awards recipients, it's their ability to make the most of an opportunity. They're turning tragedy into community, using AI to help protect the planet and building spaces that bring people together. This year, two new awards — the International Impact Alumni Award and the Clarence Hollingworth Alumni Employee Award of Excellence — are being presented to two SAIT graduates seizing opportunities to make a difference from across the Atlantic and right here on campus.
Meet our recipients