On the job: A shipbuilder's bio
Story by Ashley Naud | Photos by Heath Moffatt Photography
26 February 2020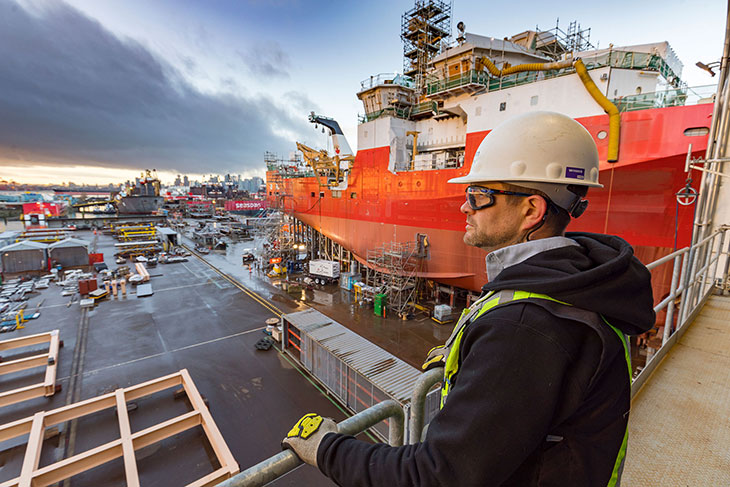 It's 4:45 am and the bracing smell of the ocean lingers in the air as Ryan Logan (Plumber '07, Steamfitter-Pipefitter '14) pulls into Seaspan's Vancouver Shipyards (VSY), a 40-acre facility located on the North Shore of Burrard Inlet in North Vancouver.
Logan doesn't formally start his workday until 6:30 am, but he prefers to arrive on-site well before his crew to ensure trade sequencing is in order for the day, the next week and even the next month — and that plans B and C are also in place, just in case. He likens his experience as a pipefitting supervisor during the construction of three Canadian Coast Guard vessels to that of a play's choreographer, ensuring all the moving parts work together.
And while Logan says he's always worked hard, he feels he's living out his "true calling" in the shipbuilding industry. It might be why he was just promoted to an area manager position, managing multiple trades in the construction of two Joint Support Ships (JSS) for the Royal Canadian Navy.
Logan talks with LINK writer, Ashley Naud, about his career journey — from working in oil and gas in Fort McMurray to a prairie potash mine, to the largest naval ship by length ever built in Canada.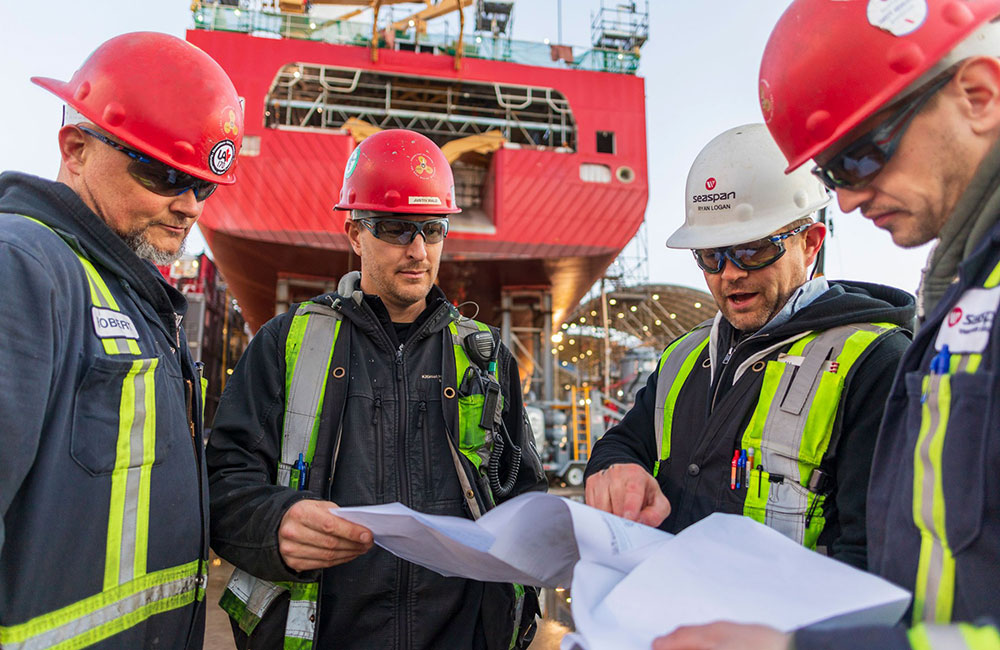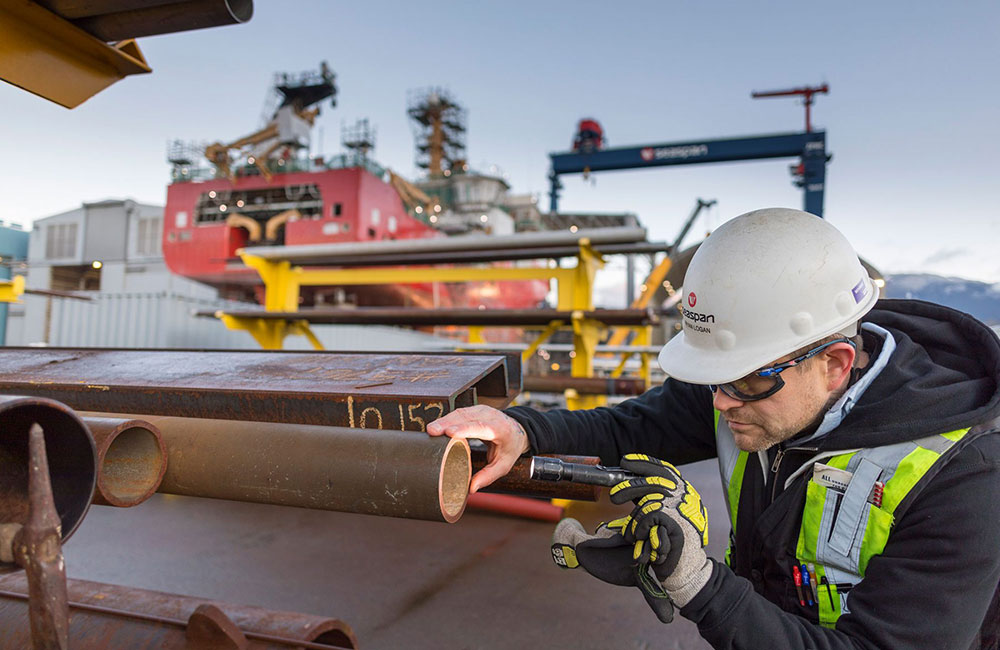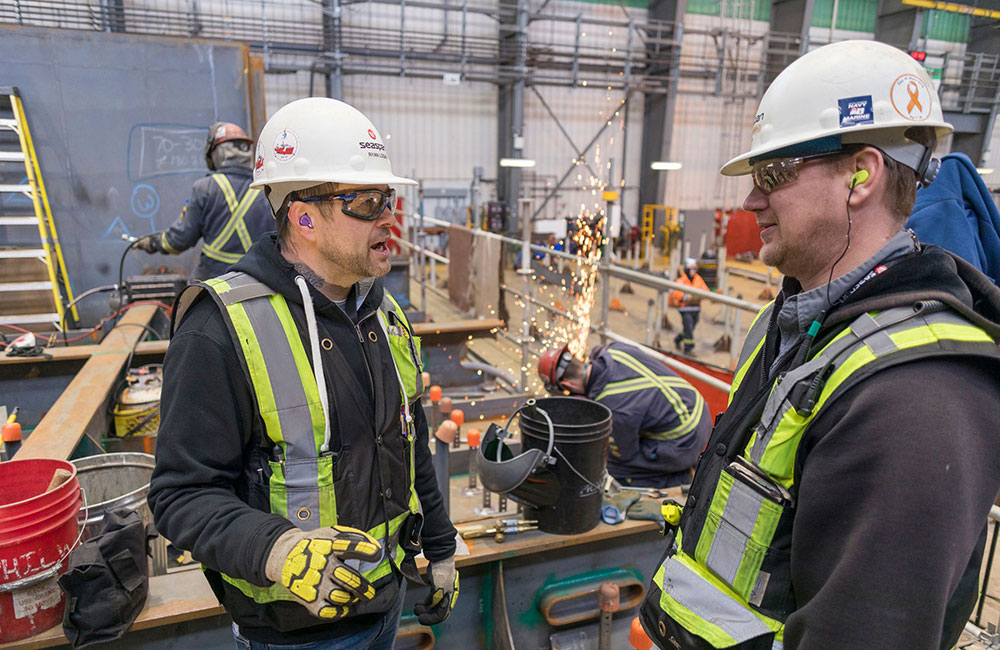 You started your career as a commercial plumber in Calgary. How did you end up on the West Coast?
RL: I grew up on Vancouver Island and, in the early 2000s, there wasn't much going on in terms of industry.
When I moved to Calgary in 2001, my brother-in-law got me involved in plumbing, and I got an apprenticeship with a local company. Most of my plumbing work involved mechanical rooms and larger piping systems. I enjoyed the larger stuff and working with steel, so I approached my employer to sponsor my pipefitter apprenticeship. I completed my apprenticeship in the oil and gas industry in places like Fort McMurray, Medicine Hat and all over Alberta, as well as a potash mine in Saskatoon. I've pretty much been in the pipefitting side ever since.
After I got my education and experience in Alberta, I had more opportunities to branch out and then made my way back home. I lucked out and got hired on at Seaspan — and I haven't looked back.
What is the biggest difference between working in an oil refinery and working on a ship for the Canadian Coast Guard?
RL: When I was working in industry up North, we were building modules and connecting them together to form something like a refinery, for instance. And building ships is pretty much the exact same thing ― we're building modules, or sections of the ship, and then stacking them all together. So, yeah, the final product might look different, but the concepts are very similar.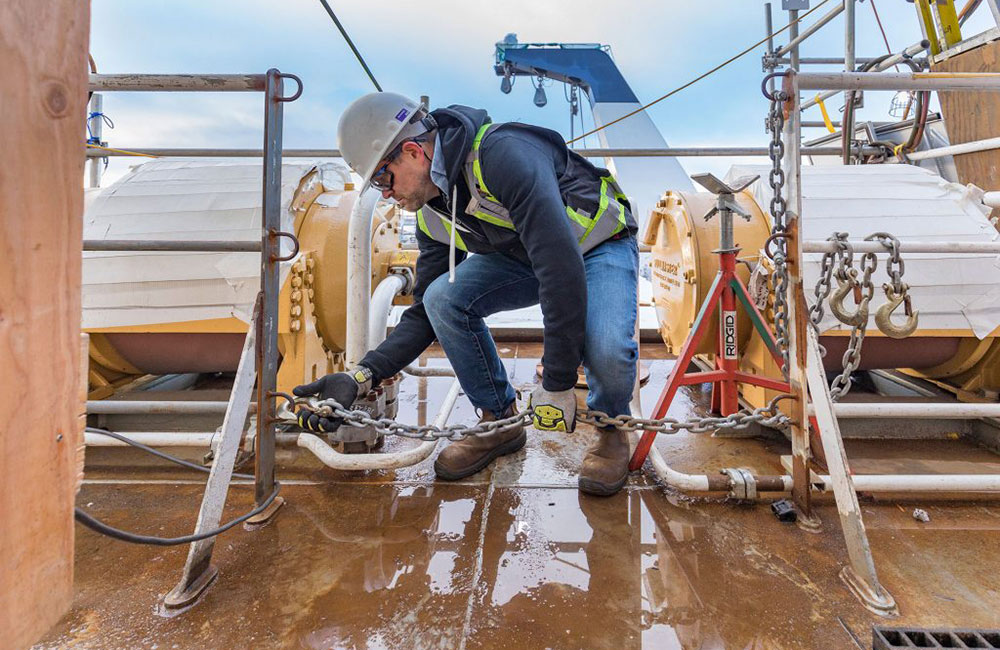 Tell me about the work you've done for the Canadian Coast Guard and the Royal Canadian Navy.
RL: I've been involved as a piping supervisor in the construction of three Canadian Coast Guard vessels ― Sir John Franklin, the Capt. Jacques Cartier and the John Cabot. They are all Offshore Fisheries Science Vessels that will allow for a better understanding of the health of fish stocks and their ocean environment. Each ship is 63.4 metres long and can hold a crew of 36.
I was recently promoted to area manager for the build of two Joint Support Ships (JSS) for the Royal Canadian Navy — the future HMCS Protecteur and Preserver. The Protecteur will be 173.7 metres long and will hold a crew of up to 239. These will be the largest ships built in Canada by length and will provide support to the Canadian Navy when they are deployed around the globe.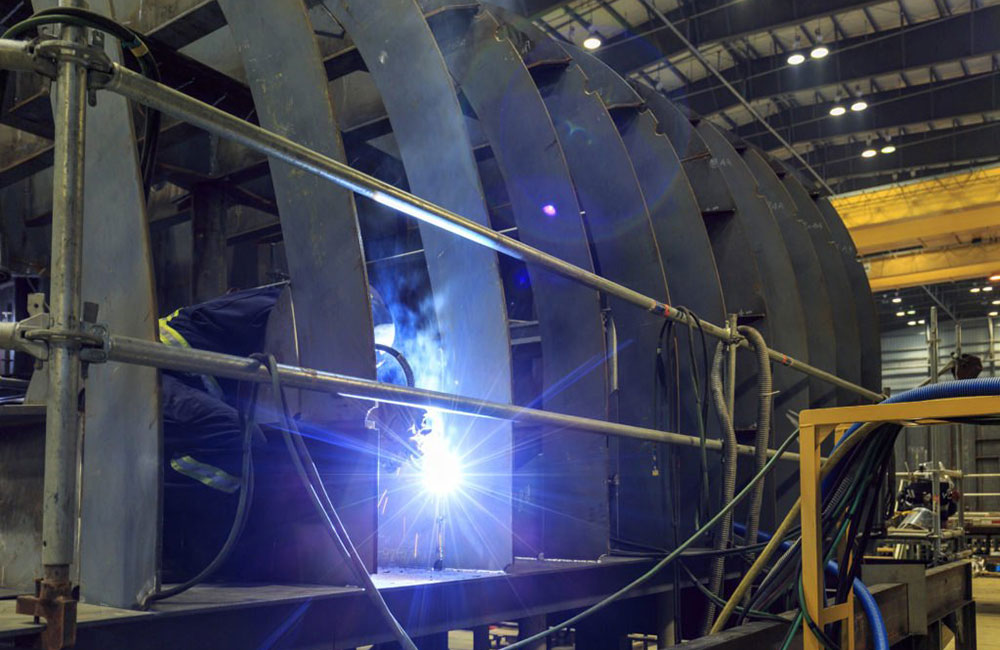 How much time does it actually take to build one of these ships?
RL: The first two Coast Guard ships took a few years and they're a lot smaller than the Navy ships. The third took a lot less time due to us getting more experience and learning how to build ships ― the whole industry is being rebuilt here. The first Navy ship was started maybe a year ago, and I would imagine it's going to be at least another two or three years ahead of us.
Is it daunting to build something that takes so long?
RL: No, it's going to be a great change. After having done three of the same Coast Guard ships, I'm looking forward to the new challenges this next ship is going to bring us.
What do you love most about your job?
RL: Definitely the people. All of the doors that have been opened throughout my career, from getting my trade tickets and beyond, were because of people I've gotten to work with and meet throughout Western Canada. And the opportunity to build something tangible, like a Coast Guard ship that's going to help protect and monitor the environment, or the JSS, which will help support Canada's troops overseas. The fact that the ships actually get used for something quite important brings me pride. Don't get me wrong ― building gas refineries or high-rise buildings gives you a different sense of pride as well. But it's pretty cool to build ships, especially since I grew up on the coast and spent so much time near the ocean as a child.

Do you remember a moment when you realized you were on the right career path?
RL: I never planned on getting into the pipe trade ― it kind of happened by circumstance. But I've never wished I had done something else. Fortunately, I have been busy working ever since graduating from SAIT.
I would say when I started here at Seaspan is when I realized my true calling… My only regret is that I didn't know about the shipbuilding industry earlier in my career. I hope to be a part of this company and industry for the rest of my career ― I feel like I'm just getting started.
The shipbuilding industry is still in its infancy out here, so there are plenty of opportunities. We're still growing and there's room to move up if you have the skills and ambition.
I hope to see more SAIT grads out here ― tell Seaspan Ryan sent you.