Why we celebrate Pride Week at SAIT
Ready for a double rainbow? 🌈🌈
On the morning of Tuesday, Oct. 12, SAIT raised the Pride flag and revealed another colourful surprise on the main campus — a rainbow window installation in the Irene Lewis Atrium. The event helped kick off an important week at SAIT.
"Pride Week is the perfect time to reveal a new addition to campus — something special we've been working on behind the scenes to celebrate our 2SLGBTQ+ community," says John Partington, Associate Director, Equity, Diversity and Inclusion.
The rainbow unveiling was just one of a great line up of events students and staff can take part in during Pride Week at SAIT, running Oct. 12 to 15.
The scoop on SAIT's Pride Week
If you're new to SAIT, you might be wondering why we're celebrating Pride Week this time of year. Sarah Ward, chair and student leadership coordinator of the Pride at SAIT Committee, breaks it down.
🕵 Why does SAIT have its own Pride Week?
Sarah Ward: SAIT hosts its own Pride Week as a way to recognize and celebrate the very special 2SLGBTQ+ community of students and employees while classes are in session. We hope they feel seen and know that they are so very important to SAIT. Many international Pride celebrations happen outside of the regular academic year. Because October is LGBT History Month and October 11 is National Coming Out Day, we host our own Pride Week in October while students are actually here to participate!
🕵 Does SAIT still recognize other Pride events (Pride Month, Calgary Pride)?
SW: Yes! In June, we hang the Pride flag in front of Heritage Hall to commemorate the anniversary of the Stonewall Uprisings that took place in 1969. This was a pivotal event in the 2SLGBTQ+ liberation movement. Calgary Pride happens at the end of August and during the first weekend in September each year. The Pride at SAIT community has marched in the Calgary Pride parade on several occasions prior to COVID-19 and we can't wait to get back out there when the situation allows!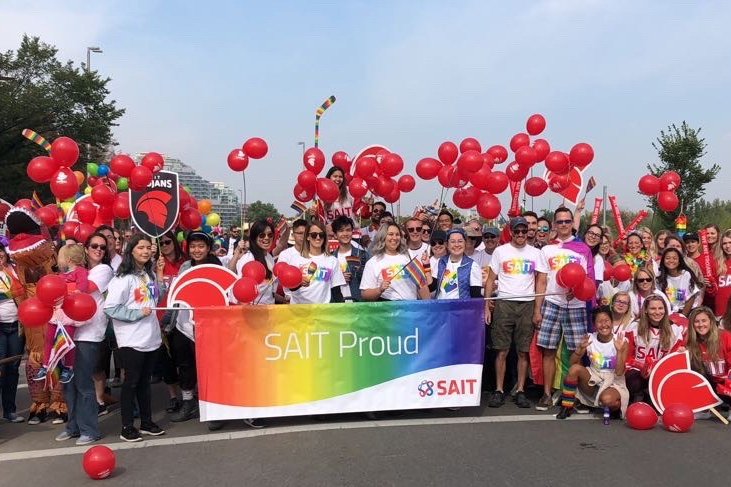 🕵 Why should people participate in Pride Week at SAIT?
SW: Pride Week is so special because it's your chance to celebrate and have fun with friends, classmates and colleagues. It's also a great way for allies to show support for the 2SLGBTQ+ community at SAIT and to learn more about how you can best support this amazing community. We have fantastic, accessible events planned this year — from educational, to just-for-fun! We hope to see you there 😊
"There are so many ways to get involved with the 2SLGBTQ+ community here at SAIT. Aside from participating in any of the virtual engagement activities, which I help support as Pride Student Leader, students can also communicate with other students through our SAIT Discord server and take part in conversations about numerous topics.
"Pride Week at SAIT is a celebration of our values and ongoing commitment to inclusion, diversity and equality. I'm excited to begin the week with the flag raising and am looking forward to the Pride at Lunch collaboration with the Interfaith Centre for a healthy discussion about faith and being a part of the 2SLGBTQ+ community. There's also a movie night which I think will be fun!"
– Katherine Mantupar, Pride Student Leader
and second-year Information Systems Security student
Get involved in Pride Week