Better together: Preserving Heritage Hall and making room for the future
PREVIOUS EPISODE
NEXT EPISODE
Description
Heritage Hall has been at the heart of SAIT's campus since 1922 — in fact, it was called the Main Building for six decades. It's hard to imagine the void there would be without it — but in the 1980s, there was serious talk of tearing it down. In this episode, explore how this central gathering place for countless students, administrators and teachers became both a provincial and a national historic site — and living proof that some things are worth preserving.
Join architect Alan Gardner, Power Engineering instructor Jim Ireland and former associate dean for the MacPhail School of Energy Dan Violini as they reminisce about modernizing Heritage Hall and trace its transformation over recent years.
Credits
Writing, production, sound design, vocals and composition by Ron Tarrant.
Research and writing by Astrid Gagnier, Alyssa Athanasopoulos and Kris Ferguson.
(Intro) DR. DAVID ROSS: What is possible with a steadfast and bold vision. Welcome, welcome to SAIT!
FEMALE VOICEOVER: A red brick and sandstone building looms large on Calgary's north hill, complete with twin towers, Gothic arches, and gargoyles. They've stood watch over the city for a hundred years. Now, this is Heritage Hall, the heart of the Southern Alberta Institute of Technology known as SAIT and we are celebrating the lessons of the past 100 hundred years since students first walked through its doors. One hundred years of innovation, pushing boundaries and leading by example. One hundred years of getting SAIT students up to speed for a rapidly changing new world. Join us and learn from the stories whispered from these walls celebrating 100 years of Heritage Hall. What lessons would we learn if only these halls could talk?
(1:10) FEMALE SPEAKER: Coming to HGTV, under the sharp and shrew watchful eye of a massive student demographic while the unforgiving hands of time, march on further endangering the existence of an architectural masterpiece and the history hidden behind its walls. Can this former 'Garden of Eden' return to paradise, or is this more tear down than build up? Welcome to the new HGTV program, Heritage Hall: renovation, or demolition?
(1:40) RON TARRANT: Well of course this wasn't an actual reality show, but it was reality. Imagine the kind of void there be at SAIT with no Heritage Hall. I mean, for all the teachings that went on within its walls, one of the most important lessons we learned was that some things are worth saving. Architect Alan Gardner sets the stage.
(2:00) ALAN GARDNER: Due to my familiarity with the SAIT Campus and buildings, my architectural firm was hired in 1982 to examine Heritage Hall. By 1980, the building suffered from a lack of coordinated upgrades. Now the SAIT Administration had certainly performed regular maintenance, but there were a number of building issues that could not be solved with simple repairs and replacements. The exterior windows were single pane with wooden frames that had been painted over many times and could no longer open. Classroom lighting was insufficient and inappropriate. Sometimes too dim, sometimes too bright. The air conditioning that had been added needed upgrading all of this needed work. Remember that in 1922, the exterior windows provided most of the light and opened for ventilation as there was no air conditioning.
(2:52) JIM IRELAND: My name is Jim Ireland. I arrived at SAIT in November 1981, and I've been teaching in the power engineering department for past 40 years. Heritage hall was the main building on campus and it was referred to by all the staff as the main building. In fact, it was the mail room. All the central mail came to the main building on the ground floor. Financial department was also there on the main floor and of course we were on power engineering was on the second floor. So, it was the focal point of the entire campus, Heritage Hall.
(3:23) DAN VIOLINI: My name is Dan Violini and I had been at SAIT not quite as long as Jim, but we did work together for many, many years. And we certainly worked together for over 20 years in Heritage Hall.
I do remember Heritage Hall as being a very warm place in terms of human relations to work. It was like a family. In fact, in the early days we had a cafeteria in the basement long before renovation started, but you could spend your whole day at Heritage Hall building without going outside at all if you wanted to. It was a good mix of administration, instructors and students. We had the registrar on the main floor and students were always coming in and out of the building. So, there was a real camaraderie in there, a real sense of family between people, all over SAIT. And I think in the end, it made it for a very pleasant place to work.
The name Heritage Hall did not come about until about 1988. At that time the president that we had decided he was going to, or that we should name all of the buildings. So, the old tower building became the Burns Building. Heritage Hall became the new name for was always called the Main Building. They even named the parkade. I can't remember who after, but they got a little carried away with the names. Heritage Hall I thought was a really great name for the old main building. I think it really did show what it was. It was also designated a provincial historical site around the same time as well, too, because there had been talk by some administrators they should tear it down and of course we were all against that. It was a wonderful building and a great show piece for Calgary.
It had had a major renovation internally in 1960 when air conditioning was installed. It wasn't a really a great air conditioning system that was put in the building never really was a cool building to work in the summer and steam heated. And steam heating, if you have had any experience with it is interesting when it gets really cold, like minus 20 to minus 30, that sort of thing. The steam registers start to bang and clunk and hiss and wheeze. There's a kind of a musty smell that comes out and I could smell that smell even today. And when the temperature got really cold the windows of course were terrible in that old building. They were single pane and they would freeze up. And if you had an office which had a window in it, I always made sure my seat was on the other side of the room because you couldn't be within two feet of that window or you'd freeze. The building had been, I would say, the best word to describe it would be tired. It really did need a renovation. They found a whole bunch of money and they proceeded with that major renovation. And of course, the construction of the Heart Building behind it.
(6:12) JIM IRELAND: The renovations were rather lengthy and some days we thought the buildings were gonna shake loose. We could feel the vibration. we could hear the noise, the rumbling. We did have classes at that time still being conducted in Heritage Hall, but we all survived it. There was some time there where we thought maybe the building the windows were gonna pop out, but eventually it came to the stage where we had to evacuate the building so they could continue on with construction.
(6:39) DAN VIOLINI: And they removed the flower beds. We had assumed the flower beds would go back in. I should say the flower beds were used on postcards. I don't know how many weddings were photographed in front of those flower beds over the years. We had a guy who that's, all he did in the summer was keep those flowers tended. We had busloads of tourists that used to come in and take pictures of those flowers.
The biggest issue that the contractors faced was removing the what was called a Polish corridor. It was built in 1952 and was named after the geographic corridor between the two parts of Germany before World War II. No one had any idea how that name came about, but it stuck. So, the Polish quarter was torn down and then they started to pile drive and they pile drived for about three months. And windows shook and desks, dust fell off the ceiling. We didn't think the old building would survive the pile drive. It was that loud.
(7:38) JIM IRELAND: Well, the one thing that stuck in my mind in Heritage Hall is, is when they exposed the gymnasium. We had no idea there was a gymnasium in that part of Heritage Hall. They opened up the doors that were hidden from the second floor. We looked down, we could see the floor and we could see the balcony and the stage. So that was rather interesting. And nobody, nobody had any idea what was hidden behind that wall. All you could see was the windows. Then they were shaded out. That was the connecting point for the Heart Building when it was added on.
(8"09) DAN VIOLINI: The second one was apparently up on the third floor, hidden in a compartment, somewhere was a clock. And that clock has been restored and is currently on display on the main floor of Heritage Hall. And it originally controlled all of the buzzers and bells or whatever they had in the classroom clocks so that everybody knew it was two o'clock, three o'clock time to start the class, et cetera. It was discontinued I think the period between World War I and World War II, because the Institute got too big and it was tucked away. And it had been preserved and nicely laid away. It was easily restored and now you can see it on the main floor on the west wing.
(8:49) JIM IRELAND: The first time I walked through Heritage Hall after the renovation was done, I was overly impressed with the main floor, ground floor. How clean look in the building look. And the Oak just shined right out, the floors were polished almost like the, they were all brand new, but it was all original. The gymnasium, or what we knew was the gymnasium. The McDonald Hall, the doors were wide open. The floor was all refinished. Oak, just beautiful!
(9:15) DAN VIOLINI: I really think the Heart Building and the design of it was a stroke of genius, how it was butted up against the north face of Heritage Hall, brought out into the open so that instructors and staff members and students could interact between the two buildings.
(9:31) JIM IRELAND: I really enjoyed my time at Heritage Hall. All my time spent on camp as that was my favorite spot. The atmosphere is, it was exciting. Things do change, but being in Heritage Hall, it was a focal point for me. My memories are there the most.
(9:44) RON TARRANT: Continue the journey through SAIT's historical past visit sait.ca/alumni for more episodes.
The exterior of Heritage Hall, 1970s.
External restoration of Heritage Hall, 2001.
Olympics flower display, 1988.
SAIT gardener Bela Rusznak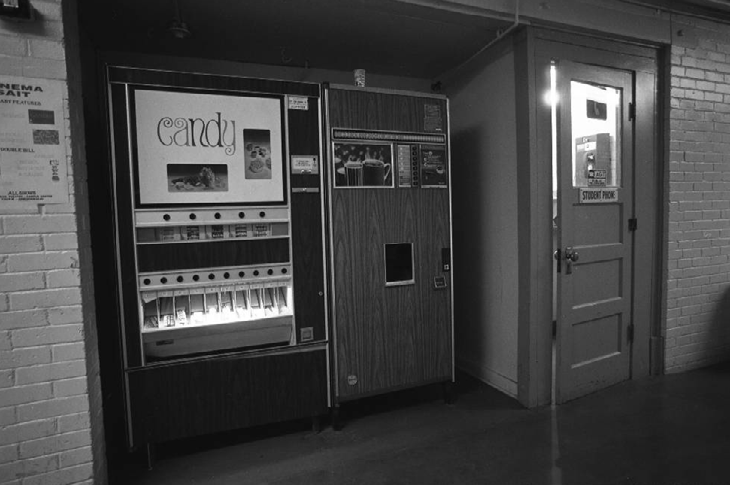 A vending machine and coffee machine inside Heritage Hall. Also seen is a phone room for students.
A photo of a former classroom.
The former auditorium, now known as Macdonald Hall.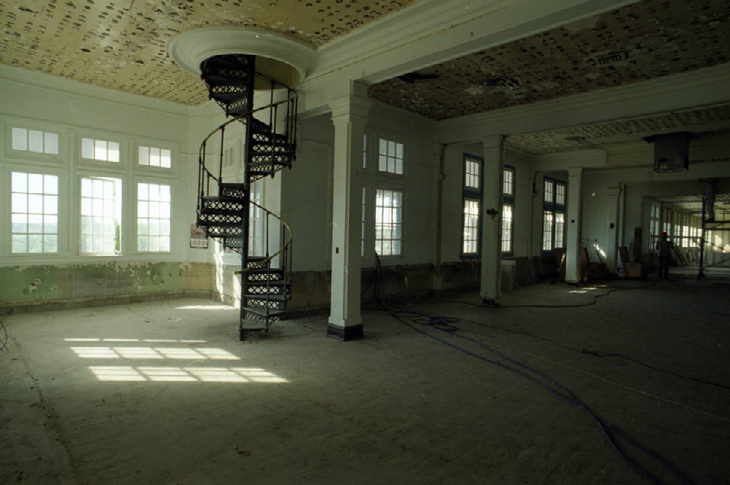 Spiral staircase during restoration.
Interior hallway during restoration.
Refurbishing windows.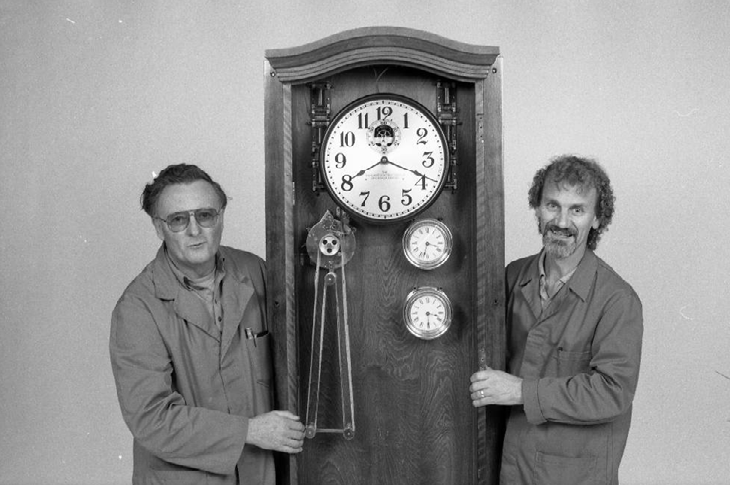 A Heritage Hall clock that was found and restored, now found on the main level of Heritage Hall.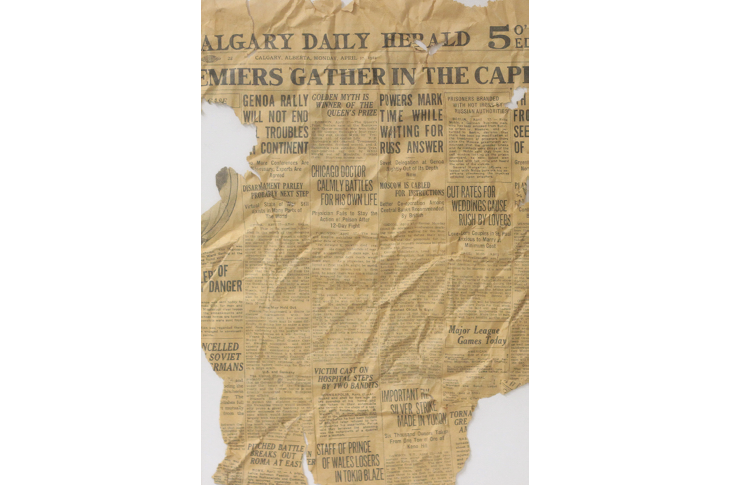 Newspaper found within the walls during the 2001 restoration.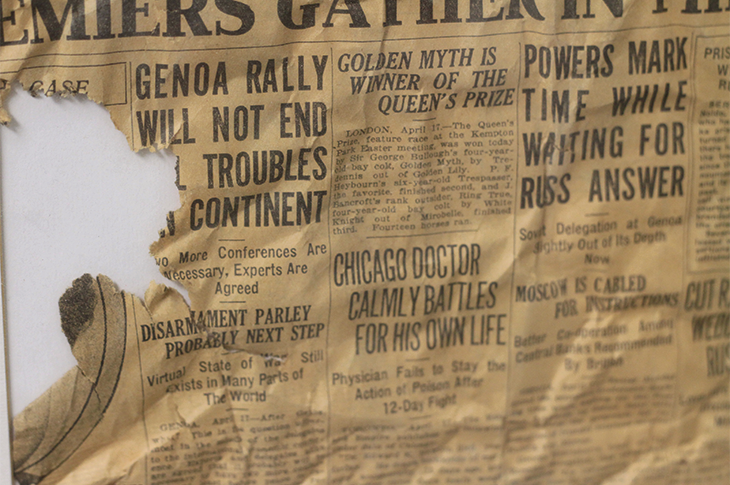 Close up of newspaper that was found within the walls during the 2001 restoration of Heritage Hall.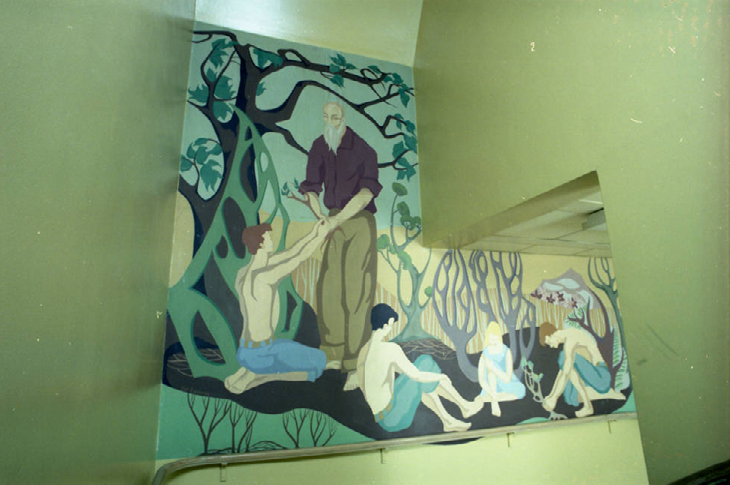 Mural in A block that had to be removed during restoration. Artist unknown.
---
Celebrate with us
Discover all the ways you can be a part of the centennial celebrations at sait.ca/HH100.